General Hospital Spoilers: Jerry Jacks Is Pikeman And Working With Alex Marick?
General Hospital spoilers and rumors tease there could be another suspect who'd fit the identity of Pikeman, and Anna Devane's (Finola Hughes) tormentor.
What's more, Jerry Jacks (Sebastian Roché) could be working with Anna's presumed dead twin, Alex Marick (Finola Hughes).
General Hospital Spoilers Highlights
In addition to being Jasper "Jax" Jacks' (Ingo Rademacher) brother and Josslyn Jacks' (Eden McCoy) uncle, Jerry was also a mercenary dealing in the kind of weapons Pikeman deals in. He bombed or threatened to bomb several different places in Port Charles, including the Metro Court.
He also worked with Cesar Faison (Anders Hove) who would have been his connection to Alex-and also worked with Helena Cassadine (Constance Towers).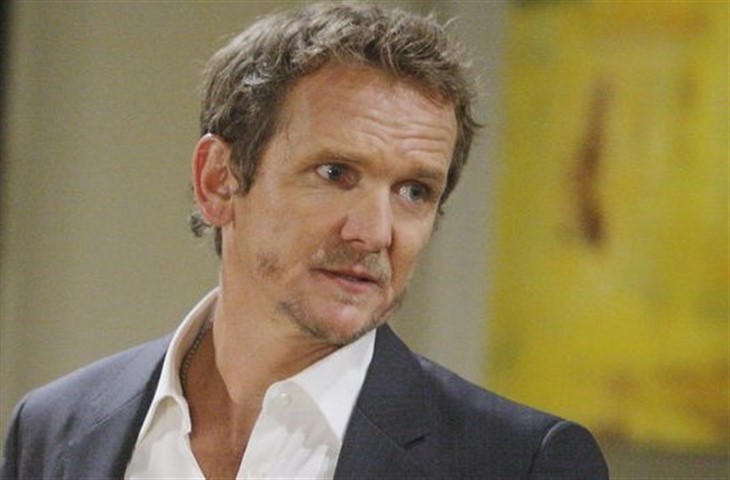 Jerry was the one who held Robin Scorpio-Drake (Kimberly McCullough) hostage, with Helena, forcing her to develop a resurrection serum Helena wanted used on Stavros Cassadine (Robert Kelker-Kelly).
Instead, she used it to bring Jason Morgan (Steve Burton) back from the brink of death-unknowingly freeing his twin Drew Cain (Cameron Mathison) instead.
GH Spoilers – Jerry Jacks And Alex Devane Could Check All The Boxes
Jerry and Alex together could check all the boxes, with Jerry being a longtime enemy of Sonny Corinthos (Maurice Benard) as well as Port Charles in general.
He and Alex together would have good reasons for revenge as well, against not only Sonny and Anna, but Robert Scorpio (Tristan Rogers) as well.
MUST READ – Fans Pay Tribute After Billy Miller's Tragic Death – Soap Star Was Battling Depression
One time Robert and Anna captured Jerry and held him captive while they went to find Robin, and the Faison connection comes into play with Alex.
Peter August (Wes Ramsey) was Alex's son with Faison and Anna left him to die, refusing to call an ambulance after Felicia Scorpio (Kristina Wagner) knocked him out.
It's possible that Jerry, who'd disappeared years ago after a prison escape could have saved Alex-if Victor Cassadine (Charles Shaughnessy) didn't.
General Hospital Spoilers – Revenge Is The Name Of The Game
Valentin Cassadine (James Patrick Stuart) doesn't even know the identity of Pikeman himself, he only knows his and Sonny's contact, Roman Hume (Mark Engelhardt).
This could be the person in the house he went to talk to that Anna couldn't find the identity of. But if the sniper at the Metro Court Pool was after Anna, Alex, as a former double WSB/DVX agent could have gotten a weapon from their arsenal.
Jerry could have supplied the weapon as well, and could have even been the sniper-he knows the Metro Court like the back of his hand.
A small person with small feet set the fire to Anna's house- that could have been Alex; she could have vandalized Valentin and Anna's suite at the Metro Court as well.
Be sure to catch up on everything happening with GH right now. Come back here often for General Hospital spoilers, news, and updates.