General Hospital Spoilers: Martin's In The Hot Seat, Blair's Out For Blood!
General Hospital spoilers and updates tease Martin Grey (Michael E. Knight) is in the hot seat, because his third ex-wife Blair Cramer (Kassie DePaiva) is out for blood! She sneaked up behind him at a table in the Metro Court quite unexpectedly, and now she reveals her true agenda.
General Hospital Spoilers – It's Mine!
Martin isn't the only one in the hot seat when Blair shows up in Port Charles, so is Tracy Quartermaine (Jane Elliot).
Tracy stole the idea for "The Deceptor) through blackmailing her granddaughter Brook Lynn Quartermaine (Amanda Setton) to download proprietary files on the product from Deception Cosmetics.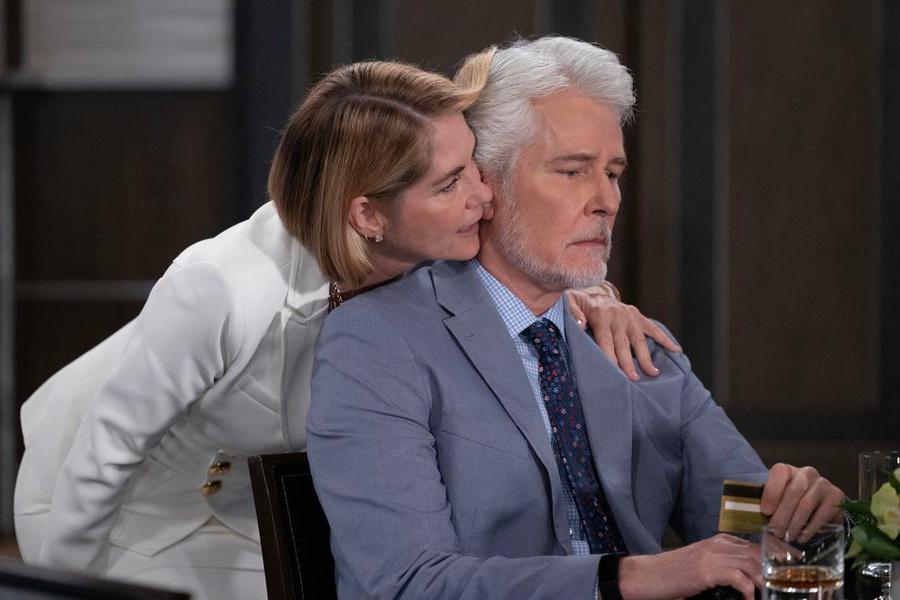 Now Tracy is suing Deception Cosmetics, but Lucy Coe (Lynn Herring) "was inspired" by Martin for the idea-but it came from his subconscious from his time married to Blair.
Now Blair shows up and reveals the concept was done first by Melador Cosmetics – run by her aunt Dorian Lord (Robin Strasser and Blair.
It was named after Dorian and her sisters Addie Cramer (Pamela Payton Wright) and Melinda Cramer (Nicole Orth-Pallavicini); finding out Martin's dating Lucy, she is suing Martin, Lucy and Tracy!
GH Spoilers – Martin Grey Didn't Remember
Martin doesn't remember ever knowing about anything that Blair did or invented or talked about while running Melador Cosmetics with her aunt Dorian. He remembers she went to a lot of get togethers where she drank too many mimosas!
Martin and Blair weren't married very long, only about a year-long enough for Martin to see that at that point, it was three strikes and he was out! Martin didn't care much for the fact that when one marries a Cramer girl, one marries her whole family, and Dorian was particularly overbearing.
It was plain to Martin that Dorian had been a golddigger-she'd married a much older man and there were rumors she'd contributed to his passing-he feared it ran in the family.
READ THIS: Find out what happens next on General Hospital.
General Hospital Spoilers – Bye Bye, Farewell, Hope You Go To H_ ll
Martin made a hasty exit and made sure to leave no paper trail Blair and her Cramer mafia could follow.
He set up a special account that couldn't be traced to any address and uses the same ones to pay Blair's two predecessors and to receive from her. He isn't sure why Blair uses a bank in Pine Valley to send his payments from and he's not about to ask.
It's bad enough that not only Lucy and Deception Cosmetics but now him and Tracy are all being sued for intellectual property theft by Blair!
If Blair ever told him anything about her product, called "Maquillage" that she claims is identical to "The Deceptor" he doesn't remember-but by six months of marriage he stopped paying attention!
Be sure to catch up on everything happening with GH right now. Come back here often for General Hospital spoilers, news, and updates.
For more about what's happening on your favorite soaps and more ways to connect with us, join the conversation on our Facebook Page, check out our Twitter feed, look for an update on our Instagram, follow us on Threads , Always stay up-to-date with us on Google News, or drop us an e-mail HERE! See you there!