General Hospital Spoilers: Kristina Learns What Dex Is Up To With Joss — Will She Tattle To Daddy?
General Hospital Spoilers tease Kristina Corinthos Davis (Lexi Ainsworth) is about to stumble upon what Dex Heller (Evan Hofer) has been doing with his time, and she won't be too keen on it. Kristina has been doing pretty well in recent years since she parted ways with Dawn of Day and got her life back on track, though she still doesn't like feeling like her mother, Alexis Davis (Nancy Lee Grahn), doesn't approve of any of her lifestyle choices. Kristina's insecurity can get the best of her sometimes, and that will come into play when she realizes Dex — a guy she's been eyeing herself — has eyes for her stepsister, Josslyn 'Joss' Jacks (Eden McCoy).
General Hospital Spoilers — Dex Heller Is Down With Joss Jacks
Kristina had her eye on Dex once upon a time, and she might feel a few pangs of jealousy when she realizes Joss has scooped him up. From the outside, it does seem like things often work out for Joss, in Kristina's opinion anyway. In contrast, she's always left feeling like life is an uphill battle for her — and that doesn't stop where relationships are concerned.
Whether she's being seduced by a college professor or a cult leader, Kristina has fallen prey to some reasonably shifty people in the past. Dex seemed like a solid choice, given that her dad approves of the guy enough to let him into his inner circle. Kristina might not be able to wrap her head around a guy like Dex being into a saccharine sweet girl like Joss.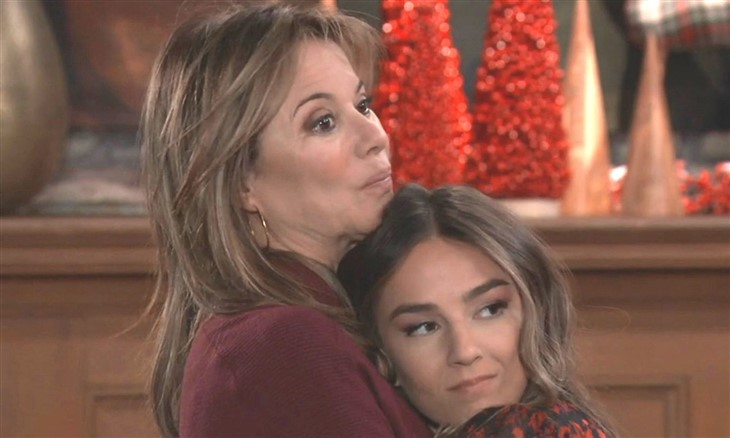 GH Spoilers – Hint Kristina
Davis

Knows Sonny Corinthos Would Never Tolerate It

Kristina knows Sonny Corinthos (Maurice Benard) has taken Dex under his wing, showing him the ropes and introducing him to the world of the mob like a Jason, Jr.. But she also knows her dad would never approve of Dex dabbling in his family pool. He doesn't want his daughters affiliated with the mob world; he's made that clear many times. While it wouldn't necessarily bother Kristina to go against what she knows her father's wishes would be in hooking up with Dex, she isn't cool with Joss doing the same, and she doesn't think Sonny would be either.
General Hospital Spoilers — Will She Blow Dex Heller And Joss Jacks' Cover?
Kristina could run back to her dad with the news that Dex and Joss are coupled up — in some fashion. She may not know enough to blow the lid off of this romance, though, which means she'll have to do some clever snooping around. Will Joss take to her suddenly poking her nose in where it doesn't belong? They aren't exactly sisterly, and Kristina hasn't really been around for Michael Corinthos (Chad Duell) and Willow Tait (Katelyn MacMullen) lately, either. How is she going to find her way into their orbit? Stay tuned for more GH news and spoilers to find out.