General Hospital Spoilers: Meet Kelsey Wang – Daisy on ABC's General Hospital!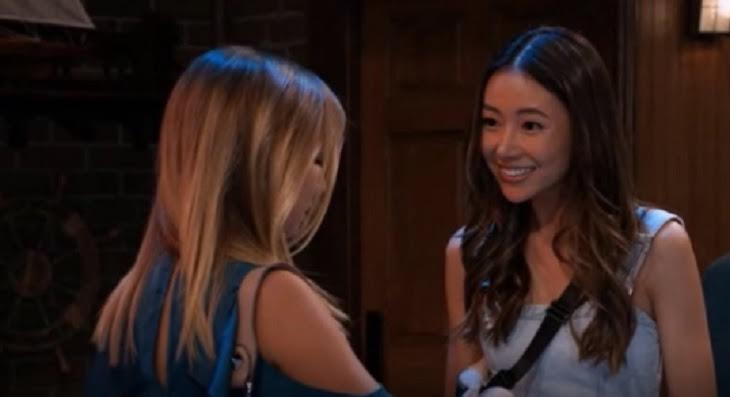 General Hospital (GH) spoilers introduce Kelsey Wang who portrays the mysterious Daisy on the ABC daytime drama and as she speaks with GH sources, the first generation Asian American has a lot to say about her experience thus far on the soap opera!
GH sources tease that viewers have been speculating Daisy may be part of a cult or a witch; possibly something far more sinister, but Kelsey Wang finds it quite entertaining and loves that people are interested in what is going on with her character, but isn't divulging much information; simply that there could be a much larger story happening and people need to stay tuned especially when it comes to her interaction with Kristina Davis Corinthos (Lexi Ainsworth) and Oscar Nero (Garren Stitt).
The news of Kiki's murder has Nina concerned for Sasha. How far is she willing to go for her daughter? #GH is brand-new and STARTS NOW on ABC! #GH55 pic.twitter.com/z1PusmYzHD

— General Hospital (@GeneralHospital) December 3, 2018
Kelsey Wang debuted on the ABC soap opera in September, where she ran into Kristina at Charlie's Pub and the two became quick friends; shortly thereafter she befriended Oscar, even becoming roommates with him. Viewers watched as she was able to heal one of Oscar's excrutiating headaches and has been able to help Kristina tame her out of control behavior, helping her change her lifestyle by simply recommending a book – all signs pointing to a cult, right?
General Hospital spoilers reveal Kelsey Wang is no stranger in front of the camera. She did appear in CBS' The Young and the Restless as an uncredited vendor in 2011, but played roles in Primetime series like Daredevil (2016), Journey to the East (Yi Tian) and America's Court with Judge Ross (Julie Chang).
GH fans will have to stay tuned to see how this story unfolds as it looks like it will be an intriguing one and something General Hospital has never done; but one has to wonder is Daisy going to help or hinder Kristina in the long run?
Be sure to tune into ABC's General Hospital (GH) to catch up on everything happening right now in Port Charles, especially with newcomer Daisy. Check Celebrating the Soaps often for updates, news, rumors and spoilers!
Read more news, spoilers, and gossip on our Celebrating The Soaps General Hospital homepage