General Hospital Weekly Spoilers December 3 to 7: Sam Gets a Surprise – Kiki's Murder Affects Many – Love is in the Air!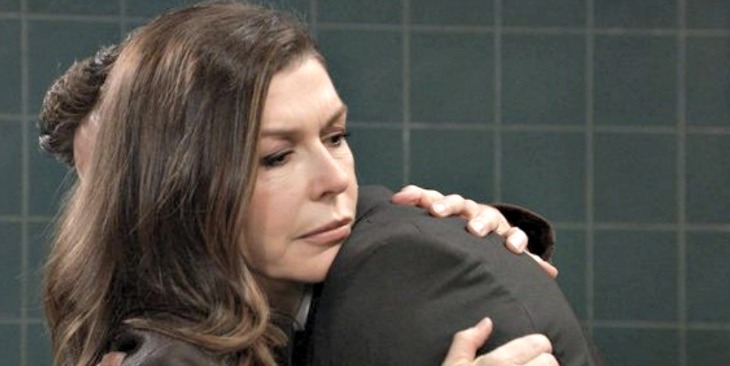 General Hospital (GH) spoilers for the week of Monday, December 3 through Friday, December 7, 2018, reveal the mayhem continues after Kiki Jerome (Hayley Erin) was murdered last week. Although not everything is bitter, as some people receive surprises and love might be in the air in unexpected places. Anger, frustration, skepticism, and speculation are the keywords to GH this week. Viewers of the ABC soap opera will not want to miss out on a second of the action beginning on Monday, December 3, 2018!
GH Spoilers – Griffin Remains The Main Suspect
GH sources tease that Dr. Griffin Munro (Matt Cohen) will continue to be on the top of their suspect list, but he will fight to prove his innocence. Detective Harrison Chase (Josh Swickard) will find possible clues and continues to look deeper into nurse Mary Pat's (Patricia Bethune) horrific death. Could Chase be the one to figure out they are connected? PCPD Police Commissioner, Jordan Ashford (Briana Nicole Henry) becomes obsessed with the case, but she gets a possible lead from Curtis Ashford (Donnell Turner).
General Hospital Spoilers – Julian Lashes Out
Ava Jerome (Maura West) may have crossed the line, threatening Griffin while he sits in the interrogation room and will face questions after some of her sinister actions are brought to light. Meanwhile, her brother, Julian Jerome (William deVry) has reached his breaking point and lashes out; but who will be on the receiving end of his anger?
General Hospital Spoilers: 'Julexis' On Hold – Alexis Helps Griffin Causes Conflict, Julian Thinks He Killed Kiki @SoapOperaSpy https://t.co/9jSgVZje8H #GH

— Soap Opera Spy (@SoapOperaSpy) December 1, 2018
GH Spoilers – Sam Gets A Surprise
General Hospital spoilers reveal Sam McCall (Kelly Monaco) gets a nice surprise when Jason Morgan (Steve Burton) opens up to her; he acknowledges that things will always be complicated with them. Are the former lovers finally going to reunite? Sam appears to be busy this week as she meets with her mother, Alexis Davis (Nancy Lee Grahn) with some important things to share; leaving Alexis suspicious.
Never wake Jason Morgan from his slumber… unless you want to lose a hand. #GH is brand-new and STARTS NOW on ABC! @1SteveBurton #GH55 pic.twitter.com/qeQavRprfM

— General Hospital (@GeneralHospital) November 30, 2018
Weekly General Hospital Spoilers – Anna Continues To Press Britt
In other GH spoilers, Anna Devane (Finola Hughes) continues to press Dr. Britt Westbourne (Kelly Thiebaud), firmly believing that Dr. Liesl Obrecht (Kathleen Gati) will fall into her trap, loving her children above all else. Mike Corbin's (Max Gail) mental health continues to deteriorate, but love might be in the air for him as he meets Yvonne (Jane Hubert) at the day care center he visits; what does this mean for his budding friendship with Stella Henry (Vernee Watson)?
Be sure to tune into ABC's General Hospital (GH) on Monday, December 3, 2018, to catch up on all the excitement happening in Port Charles right now. Check Celebrating the Soaps often for updates, news, rumors, and spoilers!
Read more news, spoilers, and gossip on our Celebrating The Soaps General Hospital homepage