General Hospital Spoilers: Monday, October 22 – Joss Puts Her Plan In Motion – Carly Opens Up To Stella – Laura Calls Out "Kevin"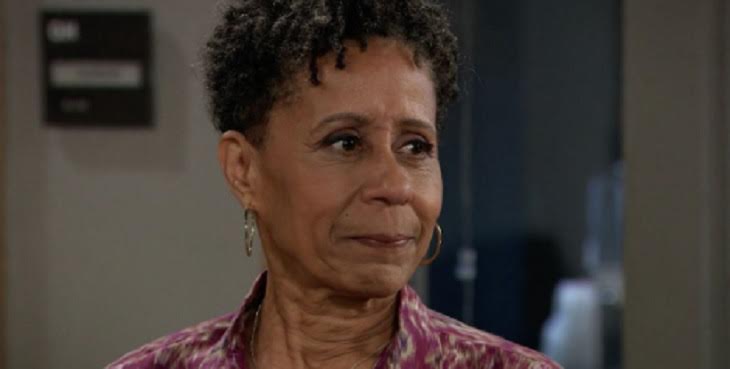 General Hospital spoilers for Monday, October 22, tease that Alexis (Nancy Lee Grahn) will surprise Kristina (Lexi Ainsworth) at the pub. It looks like Alexis might have an idea for a career route for Kristina, as she says, "I want to talk to you about something, and it affects your future." But Kristina's not keen on her mom's attempts to orchestrate her future, so we'll see how that conversation goes.
Meanwhile, Josslyn (Eden McCoy) and Cameron (William Lipton) will have a chat about Joss's big plan to win back Oscar (Garren Stitt). Joss and Cam are now officially posing as boyfriend/girlfriend in the hopes of making Oscar jealous. Joss is up for the challenge, and she'll tell Cam that when you really want something, you should fight for it.
WATCH: Stella gets an earful from T.J. about Jordan and Curtis' wedding. Did he get through to her? @TdashRich #VerneeWatson #GH55 pic.twitter.com/IncCiPdHzf

— General Hospital (@GeneralHospital) October 20, 2018
Next, on the new episode of GH on Monday, October 22, Sonny (Maurice Benard) will want some information from Mike (Max Gail). Sonny will want to know what Mike really thinks of the memory care "daycare" facility he'll be attending. Sonny probably suspects that Mike's attending the facility to avoid being a burden to himself and Carly (Laura Wright), and he'll hope that Mike will open up and give him his honest opinion of the place.
Speaking of Carly, she'll have a chat with Stella (Vernee Watson) about something important. GH spoilers say that she'll open up to Stella, and Carly will say, "Someone has to step up, and who better than me?" Just what does Carly need to stand up for?
Finally, on Monday, October 22, Laura (Genie Francis) will again confront "Kevin" (Jon Lindstrom) about his behavior lately. Ryan, who's posing as Kevin, has been doing his best to avoid Laura at all costs, but it gets harder by the day. And it's getting even more difficult now that Laura wants to be intimate with her husband. She'll call him out on it, saying, "Something's going with you, Kevin, and I'm not leaving until you give me some answers."
It sounds like we're in for some great scenes on Monday's episode! Stay tuned to the ABC soap and don't forget to check Celebrating The Soaps often for the latest General Hospital spoilers, updates, and news.