General Hospital Spoilers: Nina Goes To Carly's, Peace Talks For Willow's Sake?
General Hospital spoilers and updates tease that after having begged Carly Spencer (Laura Wright) to help her with Willow Corinthos (Katelyn MacMullen) Nina Reeves (Cynthia Watros) goes to Carly's. Previously, Liesl Obrecht (Kathleen Gati) had asked for Willow to make peace with Nina and Willow asked Nina to make peace with Carly.
General Hospital Spoilers – Peace Talks For Willow Corinthos' Sake
Just because the bone marrow transplant has taken place, everyone tries to think positive but it doesn't mean Willow is totally out of the woods yet.
It can take several weeks of recovery to know if the new marrow is "engrafting" or multiplying and making healthy, new cells.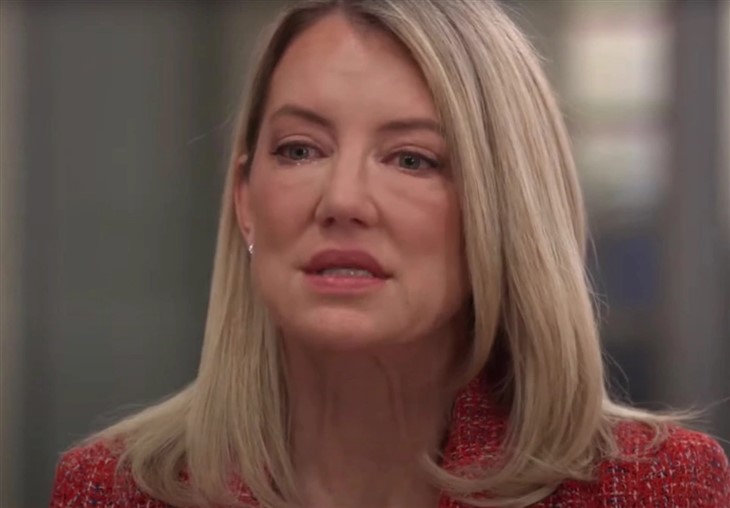 Even then, most patients are kept in the hospital for monitoring and tests to make sure they are completely in remission from their disease, and Willow may be there longer.
Willow could easily be kept in the hospital for monitoring, additional blood transfusions and tests for a couple of months, given she was in stage four. The more damage the leukemia does, the longer it could take to see if the transplant is working.
GH Spoilers – Willow Corinthos Wants Family Unity
Willow wants peace and family unity in all parts of her family, she asked Michael Corinthos (Chad Duell) to cancel his takedown of Sonny Corinthos (Maurice Benard) and he did.
She asked Nina to cancel her vendetta against Carly and wants Carly to make peace with Nina, even if she and Carly may never be friends.
She just wants them to be civil – and as far as her own relationship with Nina, it might take a while; Nina wants the chance to make amends.
Willow doesn't want Wiley and Amelia Corinthos (Viron Weaver, Owen and Nathan Ford) to grow up with dueling grandmas, and that makes sense!
For Carly's part, she needs to accept that Nina is not Nelle Benson (Chloe Lanier) any more than Willow is-that's a disassociation she needs to work on.
General Hospital Spoilers – Maybe Family Type Counseling Could Help
Carly and Nina try to discuss making amends and peace in a civil manner, and both agree maybe some family type counseling could help.
Carly shouldn't have assumed that Nina wouldn't want to know Nelle had been her daughter, and Nina shouldn't have assumed she didn't tell her out of hatred.
Nelle had some major problems and no amount of mother's love and understanding from either Nina or Carly could likely have fixed them at her age.
No doubt Nelle had taken after Madeline Reeves (Donna Mills) who was a schemer and a manipulator, and Willow after Silas Clay (Michael Easton) who was a kind doctor.
Silas had his own problems, being a cheater but he never knew about either of his twins with Nina, only Kiki Jerome (Hayley Erin) with Ava Jerome (Maura West).
Be sure to catch up on everything happening with GH right now. Come back here often for General Hospital spoilers, news, and updates.