General Hospital Spoilers: Nina Reeves Finds Herself In Danger, Sina Wedding Cancelled
General Hospital (GH) spoilers note that Nina Reeves (Cynthia Watros) could find herself in a sticky situation.
She thinks she knows what Sonny Corinthos's (Maurice Benard) work life is all about, but she really has no clue.
Should she land in danger, real danger, would the wedding be called off before planning really starts?
General Hospital Spoilers – Nina Reeves's Life Could Be On The Line
GH spoilers for the week of September 4th indicate that Nina could find herself in peril because of Sonny's "secrets".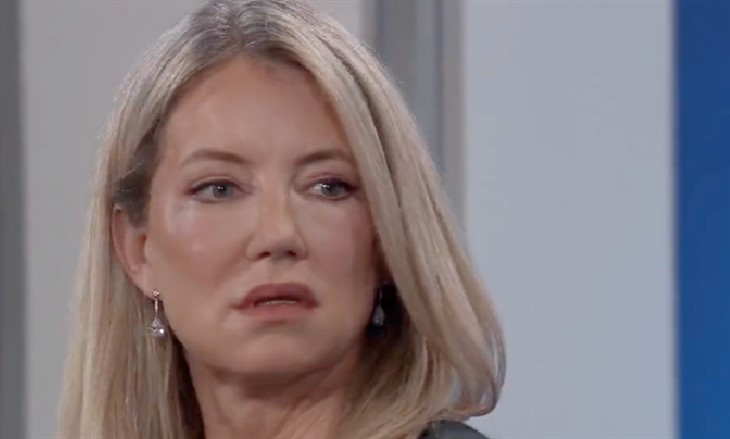 This may have to do with the trap the mob boss set for Mason Gatlin (Nathanyael Grey), but as Nina is not in the loop about this, she could be an easy target if Gatlin, or his "boss" Cyrus Renault (Jeff Kober) decide to retaliate.
Sonny does make a tremendous effort to keep everyone in his circle "safe". If Reeves lands in danger, she will be saved, but the entire incident could "freak" her and Sonny out so much that they decide to part ways.
GH Spoilers- Nina Reeves Has More Than Just Herself To Think About
After some time, Nina's biological daughter, Willow Corinthos (Katelyn MacMullen) finally agreed to establish a relationship with her.
YOU MIGHT LIKE – General Hospital Spoilers: Lorenzo Alcazar Alive & Running Pikeman – Blair Cramer Reveals Truth About Tomas Delgado?
As Michael Corinthos (Chad Duell) and Sonny don't have much of a bond anymore, Nina's link to the mob boss places herself in danger, as well as Millow, and their two children, Wiley Corinthos (Viron Weaver) and Amelia Corinthos (Bo Harrison). Nina may realize this and make the decision to walk away from Sonny.
In addition, Sonny may have an epiphany that Nina's not cut out to be a significant other of his. Not because she got kidnapped or her reaction after the fact, but that she doesn't have the "It" factor Carly Spencer (Laura Wright) had to endure the ups and downs, as well as the "dangers" of being in the mob world, as his "wife".
He may also feel terrible about what has happened and realize that he must be "alone" and "push her away" in order to protect her.
Could Nina land in a dangerous situation that ends up affecting the Sina wedding? Share your thoughts in the comment section!
Tune into your favorite ABC soap daily to see all the drama unfold and visit this site regularly for the most recent General Hospital spoilers, updates, and news.
For more about what's happening on your favorite soaps and more ways to connect with us, join the conversation on our Facebook Page, check out our Twitter feed, look for an update on our Instagram, follow us on Threads , Always stay up-to-date with us on Google News, or drop us an e-mail HERE! See you there!