General Hospital Spoilers: Peter Gets Worse And The Walls Are Closing In On Nelle!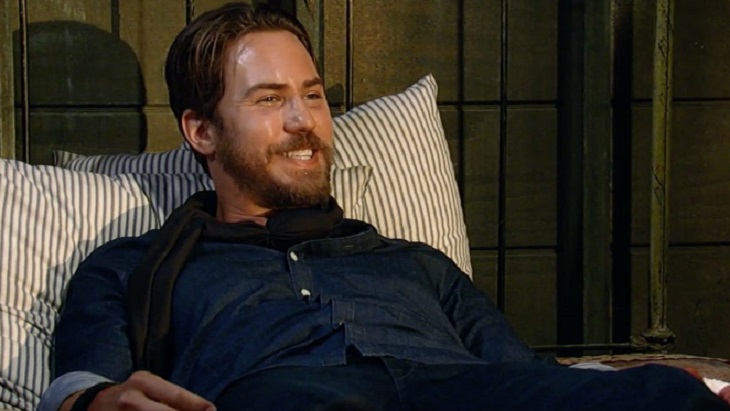 General Hospital spoilers tease that there is a lot that will be going down in Port Charles in the coming days. As a matter of fact, many lives are about to spin out of control!
It all begins with Peter's hallucinations, as they take on an entirely new life of their own. He's seeing a lot of flames, but he can't tell if they are real or if it's something that's simply in his head.
What's more, he's determined to get out of Obrecht's claws. He believes that Maxie might be his only hope. He sees visions of her, but will that be enough to save his life?
LOVE GH?  SUBSCRIBE TO OUR GENERAL HOSPITAL NEWSLETTER, HERE!
Meanwhile, General Hospital spoilers also indicate Maxie knows there's something up with Sam. Also, Sam just happened to hear a very interesting conversation between Nina and Liesl. Sam ends up telling Maxie, with many fans wondering if it will be enough for Maxie to help come to the rescue before it's too late.
Also, Michael is ready to give Nelle the surprise of her life. He wants to get married as soon as possible. It's a trap, but Nelle doesn't know it yet. Also, Sonny and Jason know that it's the end of the road for Nelle, now that they've got the proof they need to help free Carly.
They found the note that Nelle left for Carly on a Noodle Buddha takeout menu. It's only a matter of time before Nelle is forced to confess what she did and what had actually happened the day of her baby shower.
Of course, fans will just have to tune in to find out what will happen next! General Hospital airs weekdays on the ABC network. Check your local listings for times. Let us know what you think in our comments section below.
And as always, don't forget to check back with Celebrating The Soaps for all the latest news, updates and spoilers on General Hospital and all of your favorite daytime television shows right here!
General Hospital airs weekdays on the ABC network.
---
Read more news, spoilers, and gossip on our General Hospital homepage
Want up-to-the-minute soaps news, spoilers, and gossip on your social feeds? Just hit 'Like' on our Facebook page.