General Hospital Spoilers Thursday, August 10: Carly Flabbergasted, Maxie Surprised, Dante Curious, Trina Frantic
General Hospital spoilers for Thursday, August 10, 2023 reveals, Maxie Jones (Kirsten Storms) gets an offer she may not be able to refuse. Trina Robinson (Tabyana Ali) and Curtis Ashford (Donnell Turner) link up.
Portia Robinson (Brook Kerr) seeks support from her father-in-law, Marshall Ashford (Robert Gossett). Anna Devane (Finola Hughes) and Dante Falconeri (Dominic Zamprogna) talk things through.
Alexis Davis (Nancy Lee Grahn) is impressed by Kristina Corinthos Davis (Kate Mansi). Carly Spencer (Laura Wright) is taken aback by Eddie Maine's (Wally Kurth) forwardness.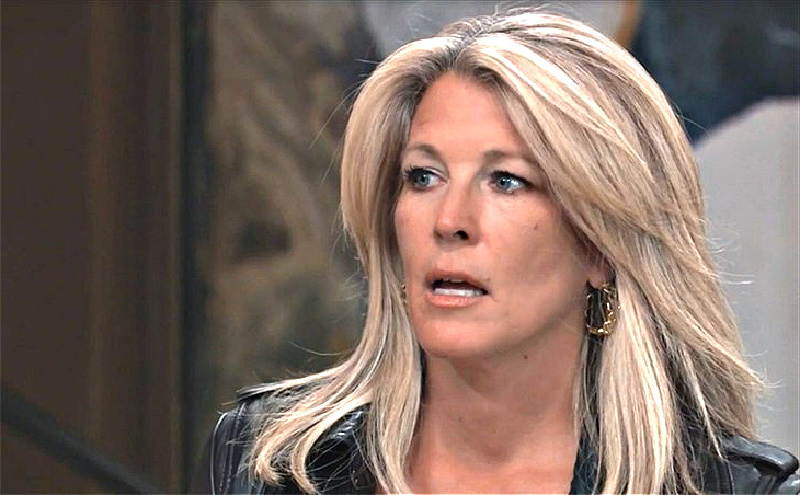 General Hospital Spoilers – Thursday, August 10, 2023: Maxie Jones
When Maxie sits down with Sam McCall (Kelly Monaco) and airs her frustrations about raising three children in a two-bedroom apartment with no yard space, her gal pal might offer her the perfect solution.
Is Lulu Falconeri's (Emme Rylan) dusty house the perfect place for Maxie and her kids to call home while Dante struggles to part with it?
General Hospital Spoilers – Say Trina Robinson Reconnects With Dad #2
Trina is intent on seeing to it that her dad is on the mend, and she thinks she knows how to help her family get through this time. But she might need to pull in some reinforcement from friends after she visits Curtis.
GH Spoilers — Portia Robinsson And Marshall Ashford Discuss Curtis Ashford' Situation
Portia will be surprised to learn her father-in-law may not think Curtis is ready to move back home with her just yet. Sure, he just did that.
They were getting on with their lives and then everything came to a screeching halt. Does he have a better suggestion for Curtis' recovery than home with the people who love him?
General Hospital – Spoilers Hint Anna Devane And Dante Falconeri Conspire To Catch A Criminal
Anna tells Dante some of her suspicions, but she might not clue him in on everything just yet. It's clear to her that Pikeman may have had something to do with the shots fired at the Metro Court pool, but tying them back to the WSB and getting them to come out into the light won't be easy.
GH Spoilers — Kristina Corinthos Davis Impresses Her Mom
Alexis might normally be the first person to roll her eyes at her daughter's antics, but this time around, Kristina is going to catch her mother by surprise. Might this experience serve to bond these two who are normally at odds?

General Hospital Spoilers — August 10 — Carly Spencer Can't Believe What She's Hearing
When Eddie goes out on a limb and borderline flirts with Carly, she won't know what to make of it. Certainly, she's heard all about Olivia Quartermaine's (Lisa LoCicero) latest plight, but that doesn't mean it'll be any easier to digest it in front of her own eyes and Ned Quartermaine (Wally Kurth) reveals he is very much not himself.
Which storyline are you most looking forward to following on GH on Thursday, August 10th? Let us know, and keep checking back for more General Hospital news and spoilers.