General Hospital Spoilers: Wednesday, December 5 – Julian Acts Out – Michael Wants Answers – Oscar Cautions Josslyn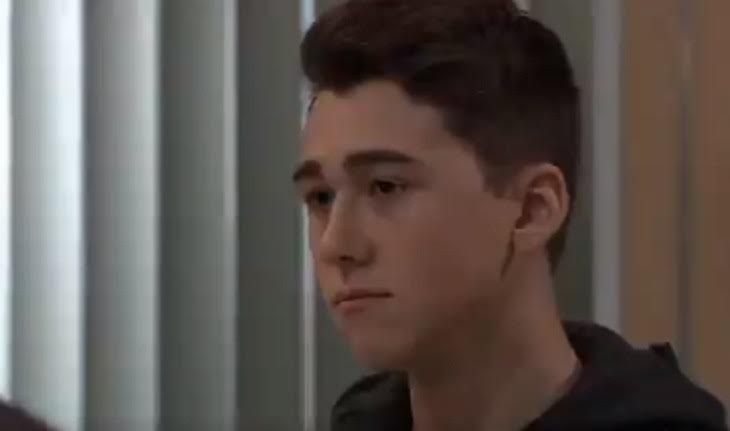 General Hospital spoilers for Wednesday, December 5, tease that Julian (William deVry) will have a hard time with Kiki's (Hayley Erin) death. He loved his niece and can't fathom the viciousness of her murder, so it looks like he'll hit the booze after closing at the pub. But Alexis (Nancy Lee Grahn) will drop by to check up on him and will find him in an agitated state.
Meanwhile, Nina (Michelle Stafford) will get on with her temporary move into Wyndemere. She offered to stay there along with Sasha (Sofia Mattsson) until Kiki's killer is captured, since Wyndemere is the safest place in Port Charles. Of course, Valentin (James Patrick Stuart) will be thrilled to have her back. "Wyndemere and I will always be here to welcome you home," he'll say.
General Hospital Spoilers – Laura Tries To Help Aiden
Next, on the new GH episode on Wednesday, December 5, Laura (Genie Francis) will sit down with Aiden (Jason David), who will be brooding about his difficulties at school. The bullying situation is really taking a toll on the little guy, and Laura will encourage him to share his feelings. "If someone is bothering you, you can tell me," she'll say gently.
How sturdy is Margaux's truce with Sonny, West Coast? Because they're both ready to test the waters. A brand-new #GH STARTS NOW on ABC! #GH55 pic.twitter.com/SzUBfnj4jf

— General Hospital (@GeneralHospital) December 4, 2018
Franco (Roger Howarth) will have his own chat with Cameron (William Lipton) in the art therapy room, and the topic of family will come up. It looks like Cameron may give some push-back to the notion of one big happy family. Cameron is going through a lot right now, given the situation with Oscar (Garren Stitt) and Josslyn (Eden McCoy), and he might lash out.
At the police station, Michael (Chad Duell) will appear and want to talk urgently with Chase (Josh Swickard). Michael will be heartbroken about Kiki's murder and will want a thorough update on the hunt for her killer. Getting all the details and immersing himself in information will be his way of coping.
Next, Josslyn will be right by Oscar's side as he gets his clinical trial regimen. She'll try to stay positive for Oscar, and it will soon become clear that she believes that the clinical trial will put Oscar on the road to recovery. But Oscar will attempt to ground her in reality. "Don't you think we're jumping the gun?" he'll ask.
General Hospital Spoilers – Oscar's Treatment
Finally, on Wednesday, December 5, Kim (Tamara Braun) and Drew (Billy Miller) will wait it out at the hospital while Oscar gets his treatment. They are on eggshells with Oscar these days, afraid that Oscar might change his mind and stop participating in the clinical trial. And Kim will recognize that something is very wrong in their relationship with their son. Will they be able to heal it?
It looks like we're in for a great episode on Wednesday! Stay tuned to the ABC soap and don't forget to check Celebrating The Soaps often for the latest General Hospital spoilers, updates, and news.