General Hospital Spoilers: Thursday, November 29 – Word Of Kiki's Murder Spreads – Obrecht Surfaces – Griffin Tells Ava What Happened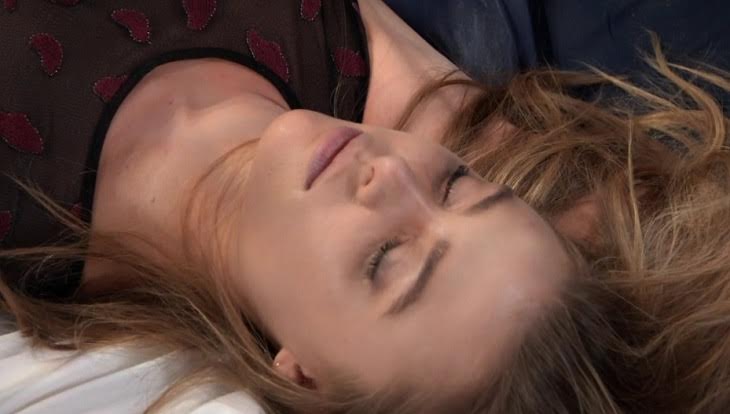 General Hospital spoilers for Thursday, November 29, tease that the word will get out about Kiki's (Hayley Erin) murder. Julian (William deVry) will break the news to Alexis (Nancy Lee Grahn) that his niece was stabbed to death. Alexis will offer support to her distraught ex as Julian tries to process what has happened.
Meanwhile, at the reception, Peter (Wes Ramsey) will offer his support to Maxie (Kirsten Storms), who will be stunned by events unfolding around them on the boat. He'll be concerned about Maxie's safety in light of the murder. "Are you really sure you want to be alone right now?" he'll ask.
Next, on the new GH episode on Thursday, November 29, Anna (Finola Hughes) and Finn (Michael Easton) will check in on Britt (Kelly Thiebaud) at the hospital. She and Britt will chat a bit about Obrecht (Kathleen Gati). "I'm going to bring your mother to justice," Anna will promise.
But it looks like Anna might have some difficulty keeping that promise, as Obrecht is shown on the phone with someone from a remote location. It looks like she might be calling Britt, as she asks, "Are you colluding with Anna Devane to trap me?"
As if Elizabeth's plate weren't full enough… today happens. Can Franco help her through the wilderness? #GH is brand-new and STARTS NOW on ABC! #GH55 pic.twitter.com/biircj2yWP

— General Hospital (@GeneralHospital) November 28, 2018
Back on the boat, Jordan (Briana Nicole Henry) and Curtis (Donnell Turner) will confer about the murder investigation. It looks like some new information will surface, and it will lead Jordan in the direction of Griffin (Matt Cohen). "I found something I need to talk to Dr. Munroe about," she'll say.
Meanwhile, news of Kiki's murder will reach Carly (Laura Wright), who will find the senseless murder baffling and scary. She'll pass on the news to Sonny (Maurice Benard), who will be equally horrified by the disturbing turn of events.
Finally, on Thursday, November 29, Griffin will finally get the attention of Ava (Maura West) at her penthouse, after nearly banging the door down. Ava will likely give Griffin a hard time and may have some choice words for him, since he interrupted her romantic interlude with Ryan (Jon Lindstrom). But Griffin will have to lay the bad news on Ava about what's happened to Kiki.
It looks like we're in for a great episode on Thursday! Stay tuned to the ABC soap and don't forget to check Celebrating The Soaps often for the latest General Hospital spoilers, updates, and news.