General Hospital Spoilers: Thursday, November 8 – Jordan Needs Help – Sonny Questions Margaux's Mom – Sam and Jason Enter Mystery Patient's Room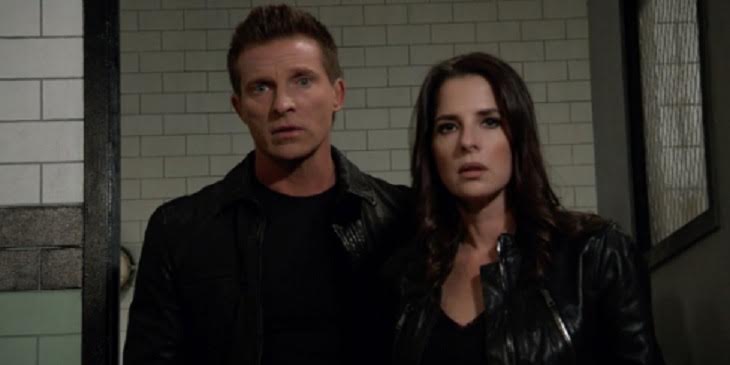 General Hospital spoilers for Thursday, November 8, tease that Curtis (Donnell Turner) will get himself into a little trouble at Ferncliff. He talked his way into the place and got access to the facility's security information, but the head nurse will catch him texting and will want to know exactly what he's up to. Will he smooth-talk his way out of it?
Meanwhile, Jordan (Briana Nicole Henry) will approach Franco (Roger Howarth) about the Mary Pat Ingles (Patricia Bethune) murder investigation. It looks like Jordan will want to get inside the head of the killer, and she'll ask Franco for assistance. "You're here to talk to Franco the killer," he'll guess.
Next, on the new GH episode on Thursday, November 8, Cameron (William Lipton) and Josslyn (Eden McCoy) will meet up, and it looks like the topic of their "relationship" will come up. Of course, they're pretending to be boyfriend and girlfriend to make Oscar (Garren Stitt) jealous. But Cam will want to know why Joss is always in such a rush to get away from him.
Ryan might have reached his limit, West Coast. How much longer can he keep Kevin hidden away at Ferncliff? #GH is brand-new and STARTS NOW on ABC! pic.twitter.com/IoIg1XDsU6

— General Hospital (@GeneralHospital) November 7, 2018
Speaking of Oscar, he'll have a run-in with Kim (Tamara Braun) at Charlie's Pub. It looks like Kim will once again appeal to Oscar to drop the lawsuit and take part in the clinical trial. But Oscar won't budge. "I'm moving forward with this lawsuit and there's nothing you can do about it," he'll say.
Next, Sonny (Maurice Benard) and Margaux (Elizabeth Hendrickson) will team up for a mission. Sonny will visit with Margaux's mom Jeannette (Ely Pouget) while wearing a wire. Margaux will be in the car, listening in to the conversation, while Sonny asks Jeannette point blank, "I want to know why your husband was killed." Will Jeannette give it up?
Finally, on Thursday, November 8, Sam (Kelly Monaco) and Jason (Steve Burton) will react to what they see in the mystery patient's room at Ferncliff. Will there be anyone there, and who will it be? The pair will later chat with someone on site, and Sam will ask, "Who fooled you into thinking this was a way out?"
It sounds like we're in for some great scenes on Thursday's episode! Stay tuned to the ABC soap and don't forget to check Celebrating The Soaps often for the latest General Hospital spoilers, updates, and news.