General Hospital Spoilers: Wiley's Birth Mom Mystery – It's Someone Julian Knows!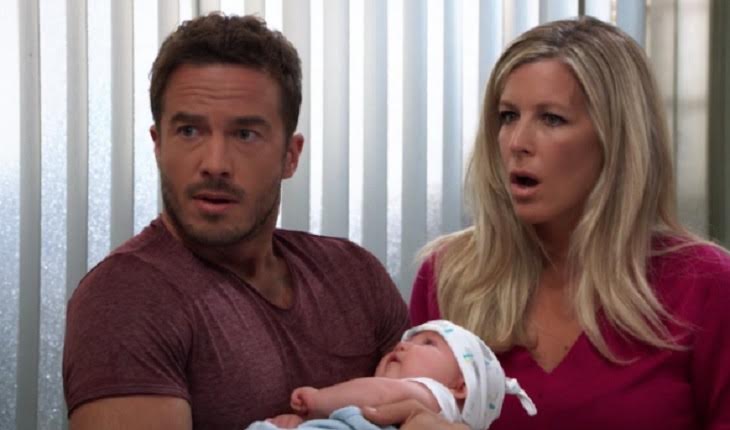 General Hospital spoilers tease that Wiley Cooper-Jones (unknown twins) birth mother has to be someone who not only knows or knows of Julian Jerome (William DeVry) but also knows he's Lucas Jones' (Ryan Carnes) birth father! This is the original Wiley who sadly died at only a few hours old, not Jonas Corinthos who he was swapped for.
Of course, General Hospital viewers who have been paying attention know this is yet another GH re-write similar to having Sonny Corinthos (Maurice Benard) evolve from burying Vincent Marino to killing him! When the adoption story first started, Lucas and Brad Cooper (Parry Shen) didn't know who the birth mother was, and her identity was kept a secret; and now Lucas is saying he promised her that Julian wouldn't be involved in Wiley's life!
There may be plenty of young women who are aware of Julian Jerome's reputation, but probably not that many who know that he's Lucas Jones' birth father. Long time General Hospital viewers who were watching the first time Julian Jerome appeared, then portrayed by Jason Culp, will recall that he was involved with Cheryl Stansbury (Jennifer Anglin).
Cheryl was the sister of Tiffany Donely (Sharon Wyatt) and the birth mother of Lucas. When she died, Lucas was first taken in by Tiffany and husband Sean Donely (John Reilly) and later adopted by Bobbie Spencer (Jacklyn Zeman). Sean and Tiffany's daughter, Anna, (Courtney Halverson) is Lucas' cousin on his mother's side.
Anna was only seen briefly in 2013 in the storyline about Luke Spencer's (Anthony Geary) polonium poisoning and his search for a cure. Anna, who was named after Anna Devane (Finola Hughes) then lived in Ireland with her parents. Sean also had polonium poisoning and a cure was ultimately developed by Dr. Robin Scorpio-Drake (Kimberly McCullough) after a temporary treatment had been used previously that Liesl Obrecht (Kathleen Gati) had developed.
There are plenty of baby boomer age residents in Port Charles who know the story of Lucas' birth. Bobbie, Mac and Felicia Scorpio (John J. York and Kristina Wagner) and of course the Spencer relatives know. While there was never any secrecy about Lucas' birth or who his birth parents were, and some of the younger generation know as well, who among the younger women of Port Charles could be the birth mother and know Lucas and Julian's relationship?
"There's a third person in this marriage… and I think I know who it is." #GH55 pic.twitter.com/PVXbKG0jmc

— General Hospital (@GeneralHospital) November 7, 2018
When Julian first came to town, he was in witness protection and went by the name Derek Wells. Is it possible that for some reason Anna Donely could have gone in witness protection and moved to Port Charles? She could have had plastic surgery if she had been in dire danger for some reason, since moving from Ireland to the US as well seems extreme. If she looks different and has a new identity Anna Devane wouldn't even know her! Even if Anna does know, she won't tell.
One possibility for Anna Donely's new life and identity might be Willow Tait (Katelyn MacMullen). She appears to be the right age, and she is grieving for someone. She doesn't appear to have any family in town. Anna Donely's parents had also been involved with Cesar Faison (Anders Hove), her father having helped Faison fake his death at one time.
Faison turning on the Donelys would be a reason to hide, especially if Anna knew too much! The birth father would be a mystery as well, but maybe he's in Ireland and doesn't even know there was a baby. It's possible that when Julian contacted the birth mother, he may have told her that her baby died, but if he did, that has yet to be revealed. She could be grieving for her father; nothing has been written about Sean Donely's passing in GH storylines, but he was in much worse shape than Luke was, and even if that hadn't killed him, he would be at least as old as Robert Scorpio (Tristan Rogers) and Luke.
Will Willow be revealed to not only be the original Wiley's birth mother, but also Anna Donely, now that Faison is dead and no longer a threat to her? Stay tuned to General Hospital and check General Hospital spoilers frequently to see if Willow is indeed revealed to be someone totally unexpected like Anna Donely!