General Hospital Spoilers Tuesday, August 29: Gladys' Panics, Dr. Montague's Extreme Move, Sonny's Warning, Carly Hopeful
General Hospital spoilers for Tuesday, August 29, reveal that Jackson 'Jack' Montgomery (Walt Willey) is in town to defend his client, who is suing Deception over their latest innovation, The Deceptor.
Cyrus Renault (Jeff Kober) hopes Drew Cain (Cameron Mathison) will reveal information he wants. Gladys Corbin (Bonnie Burroughs) is under pressure. Sonny Corinthos (Maurice Benard) works with Brick (Stephen A. Smith).
Tracy Quartermaine (Jane Elliot) is preoccupied. Marshall Ashford (Robert Gossett) relays his concerns to Curtis Ashford (Donnell Turner). Carly Spencer (Laura Wright) updates Michael Corinthos (Chad Duell).
General Hospital Spoilers – Tuesday, August 29, 2023: Deception Has Its Day In Court — With Jackson Montgomery
Jack is headed to Port Charles from Pine Valley, and fans are on the edges of their seats wondering if his client will be in tow. Could it be the one and only Erica Kane (Susan Lucci)? We're dying to know!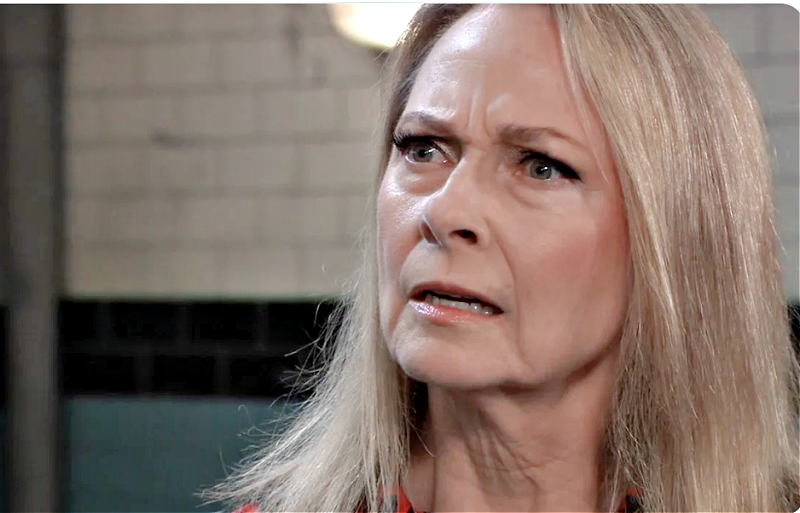 General Hospital Spoilers – Say Cyrus Renault Is A Lucky Duck
Cyrus seems to feel confident that he is under similar protection that Drew is by Sonny.
When Sonny sent Dex Heller (Evan Hofer) to Pentonville to relay a message that no one working for Sonny is to mess with Drew, it may have conveyed protection over Cyrus by default. But will it stick?
GH Spoilers — Gladys Corbin Is In A Pickle
Gladys will burst into Nina Reeves' (Cynthia Watros) office with a look of sheer panic on her face. When Gladys tells Nina she needs $50K to help Sasha Gilmore Corbin (Sofia Mattson), will Nina question her motives? Will she share Gladys' concern with Sonny?
READ THIS: Find out what happens next on General Hospital.
Sonny and Brick will come together again for the betterment of the business. Will Brick be able to help him smoke out the rat who is trying to take him down?
General Hospital Spoilers – Spill Tracy Is Rather Obsessed
Tracy is foaming at the mouth over all of her plans coming to fruition. She can't wait to see Lucy Coe (Lynn Herring) and the other ladies at Deception have their day in court, because she already knows the likely outcome of it.
GH Spoilers — Marshall Worries About Business
Marshall will make note of it when his son, Curtis, seems unphased by his news that there are problems with The Savoy. Will Curtis let his dad in on what he's been up to with Selina Wu (Lydia Look)?
Carly is eager to figure out a way to get Drew out of prison far sooner than expected, but will Michael share her excitement? Is she in over her head and getting her hopes up prematurely like her beau warned her not to do?
Which storyline are you most looking forward to following on GH on Tuesday, August 29th? Let us know, and keep checking back for more GH news and spoilers.