General Hospital Spoilers: Tuesday, December 4 – Maxie's Conflicted – Mac Threatens Peter – Ryan Bewilders Ava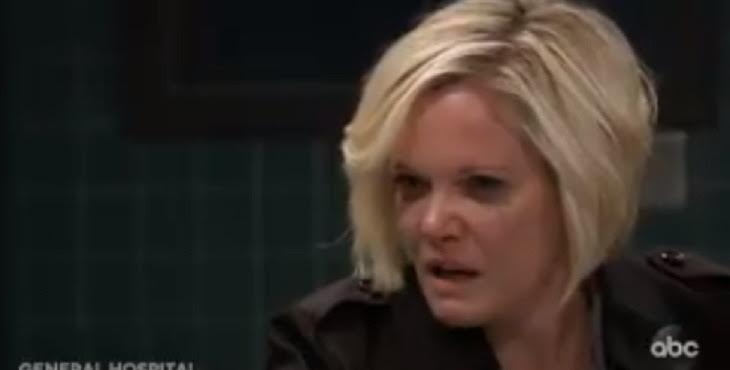 General Hospital spoilers for Tuesday, December 4, tease that Anna (Finola Hughes) and Finn (Michael Easton) will be up to something. The two will be chatting near the nurses' desk at GH and Anna will smile big at Finn. But they'll be overheard by Epiphany (Sonya Eddy), who will turn to Anna and say, "Are you out of your mind?" What could Anna be planning that's so shocking?
Meanwhile, Maxie (Kirsten Storms) and Felicia (Kristina Wagner) will have a heart-to-heart, and the topic of Peter (Wes Ramsey) will come up. Peter and Maxie nearly kissed after Curtis (Donnell Turner) and Jordan's (Briana Nicole Henry) wedding, and it left Maxie rattled. Nathan (Ryan Paevey) is still on Maxie's mind, and it looks like she'll be conflicted about the prospect of moving on with Peter. "It's too soon to have feelings for someone else," she'll tell Felicia.
WATCH: Ava confronts Griffin and demands answers from the prime suspect in Kiki's murder. @mattcohen4real @MauraWest @thejonlindstrom #GH55 pic.twitter.com/N2p6dVYgjX

— General Hospital (@GeneralHospital) December 4, 2018
Speaking of Peter, he'll get a talking-to from Mac (John J. York). Peter will look on wide-eyed as Mac goes into protective mode and tells him that he'd better never hurt Maxie. Of course, Peter will probably assure Mac that he only has honorable intentions when it comes to Maxie, but still Mac will lecture him and promise to make his life a living hell if he hurts her.
Next, on the new GH episode on Tuesday, December 4, Margaux (Elizabeth Hendrickson) and Sonny (Maurice Benard) will have tense words at Morgan's (Bryan Craig) gravesite. Sonny has been feeling sorry for Margaux lately, but it doesn't look like Margaux has softened any toward Sonny. "You make one move and I'll be all over you," she'll snarl.
Meanwhile, Jordan will decide that it's time to get some more information from Griffin (Matt Cohen). She's just gotten an earful from Sasha (Sofia Mattsson) about Ava's (Maura West) failed plot to break up Kiki (Hayley Erin) and Griffin. It seems that she's now looking at Ava as a suspect, so she'll want to get more details on the matter from Griffin.
Finally, on Tuesday, December 4, Ava will be bewildered by "Kevin's" (Jon Lindstrom) admission that he killed Kiki. She'll challenge him, but he'll insist that he is the killer. Since it seems too soon for the real killer's identity to be revealed, Ryan will probably go on to explain that he somehow feels responsible for fostering Ava's rage rather than encouraging her to patch things up with Kiki.
it looks like we're in for a great episode on Tuesday! Stay tuned to the ABC soap and don't forget to check CDL often for the latest General Hospital spoilers, updates, and news.