General Hospital Spoilers Tuesday, June 13, 2023: Gladys Is A Mess, Marcus Drinks TOO Much, Olivia's Panic  
General Hospital spoilers for Tuesday, June 13, 2023 reveal that Gladys Corbin (Bonnie Burroughs) is riddled with anxiety and Sasha Gilmore Corbin (Sofia Mattson) misinterprets it. Jordan Ashford (Tanisha Harper) is there for Marcus Taggert (Réal Andrews), who isn't quite himself.
Drew Cain (Cameron Mathison) is taking control. Curtis Ashford (Donnell Turner) celebrates his birthday. Portia Robinson (Brook Kerr) wonders what the future holds, and T.J. Ashford (Tajh Bellow) has news about Ned Quartermaine's (Wally Kurth) condition.
General Hospital Spoilers – Tuesday, June 13, 2023: Gladys' Corbin Anxiety Unnerves Sasha Gilmore Corbin
Gladys' anxiety is about to boil over and Sasha discusses her plans to regain control of her finances with such enthusiasm. As Gladys tries to dodge every hope Sasha has of getting her life back in order, it's going to leave Sasha feeling like Gladys doesn't trust her or think she's capable of making her own decisions. While we know that isn't the case, Gladys can't very well tell Sasha what her problem is.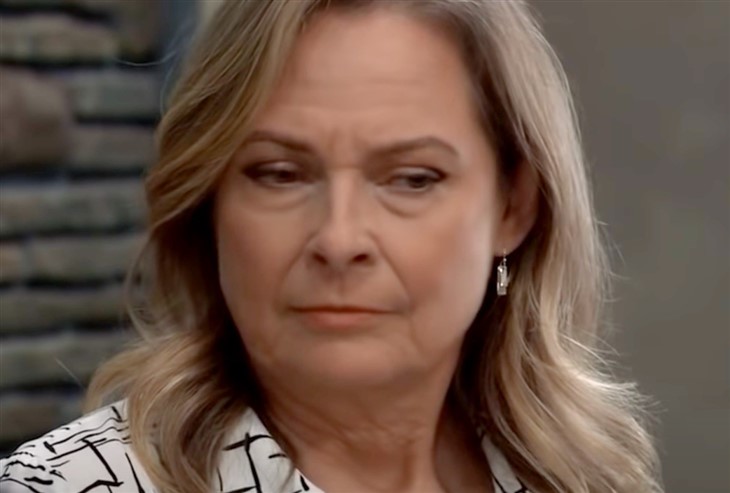 General Hospital Spoilers – Say Jordan Ashford Comforts Marcus Taggert
When Jordan stumbles upon a drunken and somewhat disorderly Marcus, she's going to be met with confusion and concern for her former partner. It seems Marcus isn't actually doing so well coping with the loss of his daughter. Sure, Trina Robinson (Tabyana Ali) hasn't gone anywhere, but that's not how it feels.
GH Spoilers — Drew Cain Won't Be Pushed Around
Drew has been accused of assaulting Ned — something he didn't do. He's been worried that Carly Spencer (Laura Wright) could turn on him, but he was ready to turn himself in anyway. Now, fighting to clear his name thanks to Tracy Quartermaine (Jane Elliot), he will update Carly with his plans for the future.
General Hospital Spoilers – Hint It's Curtis Ashford' Birthday
Curtis is celebrating another trip around the sun, but is he grateful for everyone in his presence? He does love his wife, but that chemistry they once had doesn't seem to be there anymore — only anger. Will he get through the celebration without wishing Jordan was there?
GH Spoilers — Portia Robinson Has Questions For Her Husband
Portia is longing to hear Curtis affirm her feelings. She wants to know he's back home because that's where he wants to be, not just because he needs to be sure it isn't. She needs to hear him say there is a chance that they can be a real family like they had dreamed about. Is there?
General Hospital Spoilers — June 13 — T.J. Ashford Has An Update For Olivia Quartermaine
A tearful Olivia has been pacing the hospital hallways waiting for news that points in a positive direction about her husband. Is Ned going to pull through this — and soon? T.J. may warn her to brace herself as he delivers an update.
Which storyline are you most looking forward to following on GH on Tuesday, June 13th? Let us know, and keep checking back for more GH news and spoilers.