General Hospital Spoilers: Wednesday, February 6 – Anna Threatens Liesl – Lulu's Memory Stuns Laura – Jordan Pulls Her Gun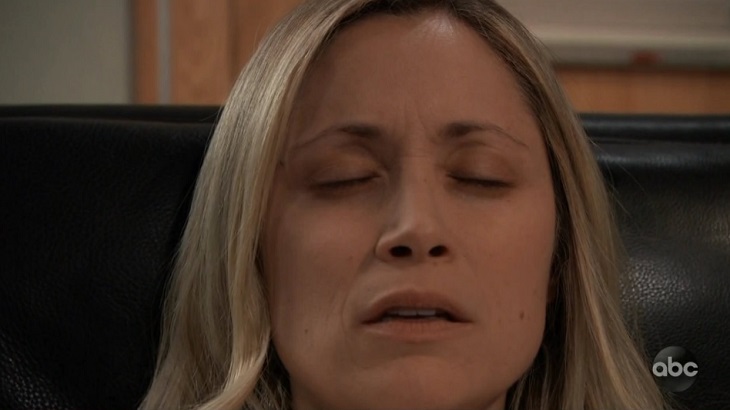 General Hospital spoilers for Wednesday, February 6, tease that Anna Devane (Finola Hughes) will take a moment away from researching the mystery virus that left her blind to have words with Liesl Obrecht (Kathleen Gati). These two just don't get along, and the exchange will get heated. Anna will even tell Liesl that "I will see you dead."
Meanwhile, Nina Reeves (Michelle Stafford) and Sasha Gilmore (Sofia Mattsson) will enjoy their time together. They'll catch up and discuss Valentin Cassadine (James Patrick Stuart). Nina's ecstatically happy with Valentin, but Sasha may question whether Nina's rushing into things, especially since she's considering Valentin's marriage proposal. Nina will explain that "Valentin gave me my child back" while Sasha feels guilty, since she's not really Nina's daughter.
Next, on the new episode of GH on Wednesday, February 6, Willow Tait (Katelyn MacMullen) will bump into Valentin, and she'll have some news to pass on about Charlotte Cassadine (Scarlett Fernandez). She tried to tell Valentin previously about Charlotte's cheating in school, but Valentin dismissed her concerns. Willow will express frustration with Valentin and will insist that the situation remains troubling.
At the Invader offices, Peter August (Wes Ramsey) and Maxie West (Kirsten Storms) will continue their conversation about Valentin. Maxie has just asked Peter what Valentin has to do with Sasha, and while Peter won't know exactly, he'll offer a warning to Maxie. "Valentin – he will lie whenever it's expedient," Peter will say.
Meanwhile, Laura Webber (Genie Francis) will be called in after Ryan Chamberlain's (Jon Lindstrom) hypnosis session with Lulu Falconeri (Emme Rylan) ends. Of course, Ryan gave Lulu the suggestion that her killer was Franco, and Lulu's mind ran with it. Lulu will tell Laura that it was Franco who tried to kill her, as Laura looks on, horrified.
General Hospital Spoilers Wednesday, February 6: Jordan's Arrest Bombshell – Valentin Gets Troubling News – Anna Issues a Death Threat https://t.co/KpOtsqtds3 pic.twitter.com/TOMi6afWnQ

— SOS/CTS/HH (@SoapOperaSpy) February 5, 2019
Finally, on Wednesday, February 6, Jordan Ashford (Briana Nicole Henry) will also learn that Lulu "remembered" Franco as her attacker, and she'll be ready to explore Franco as a solid suspect in the recent killings. Jordan will encounter someone – most likely Franco – and draw her weapon, yelling at the person to "keep your hands where I can see them!"
It looks like we're in for a great episode on Wednesday! Stay tuned to the ABC soap and don't forget to check Celebrating The Soaps often for the latest General Hospital spoilers, updates, and news.
Read more news, spoilers, and gossip on our Celebrating The Soaps General Hospital home