General Hospital Spoilers: Wednesday, January 9 – Mayoral Candidates Wait For Returns – Cameron Faces The Music – Margaux Goes Off The Record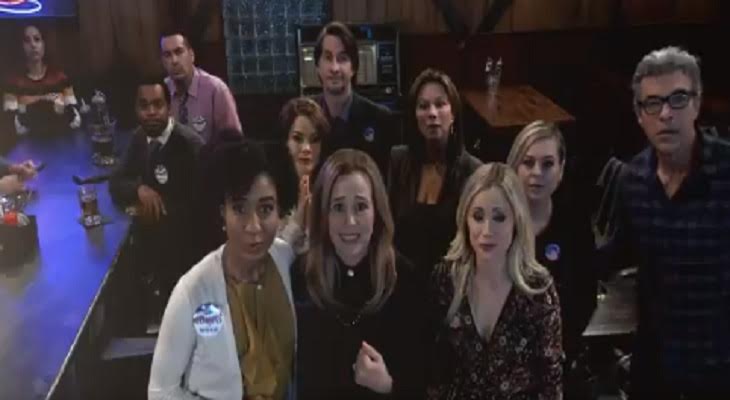 General Hospital spoilers for Wednesday, January 9, tease that election day will wind down in Port Charles, and Ned Quartermaine (Wally Kurth) and Olivia Quartermaine (Lisa LoCicero) will eagerly await the results. As the incumbent candidate, Ned certainly seems to have the advantage over contender Laura Collins (Genie Francis). But Ned will play it cool. "Win or lose, it's out of my hands," he'll say.
Meanwhile, Jordan Ashford (Briana Nicole Henry) and Curtis Ashford (Donnell Turner) will discuss the serial killer case with Mac Scorpio (John J. York). Jordan and Curts are under the impression that the recent murders are the result of a Ryan Chamberlain (Jon Lindstrom) copycat. Mac will be intrigued by that possibility, but he'll think that if the killer is copying Ryan, he'll be hard to catch.
Next, on the new GH episode on Wednesday, January 9, Cameron Webber (William Lipton) will have his day in court. He's just found out that he got a tough judge assigned to his case, so he may have a difficult road ahead of him. He'll do the best he can to demonstrate for the judge that he's sorry for his actions and won't get into any more trouble. It looks like the judge will surprise Cameron with a quick decision. What will it be?
Carly Corinthos (Laura Wright) and Sam McCall (Kelly Monaco) will sit down for a chat. Sam has just gotten the news that Oscar Nero's (Garren Stitt) clinical trial failed to shrink his brain tumor. She'll be distraught, and the two will discuss the impact that Oscar's condition is having on everyone.
That's "Dr. Quartermaine" to you. @lesliecharleson#GH55 #SocialExclusive #NewPhoto pic.twitter.com/tlrA8RcS21

— General Hospital (@GeneralHospital) January 8, 2019
Meanwhile, Laura and Sonny Corinthos (Maurice Benard) will catch up. It looks like the topic of the elections will be on Laura's mind. She may be wondering how her separation and impending divorce may impact her chances of winning the election. "I have nothing to hide," she'll insist.
Finally, on Wednesday, January 9, Margaux Dawson (Elizabeth Henrickson) will have a meeting with Lulu Falconeri (Emme Rylan). Lulu is always wanting details on the recent murders, and she knows that the police are considering the murders to be the work of a serial killer. It looks like Margaux will be willing to give Lulu an update on the current state of the investigation. "What I'm about to tell you is strictly off the record," she'll say.
It looks like we're in for a great episode on Wednesday! Stay tuned to the ABC soap and don't forget to check Celebrating The Soaps often for the latest General Hospital spoilers, updates, and news.