General Hospital Spoilers: Who Is Hank And What Does He Want From Drew?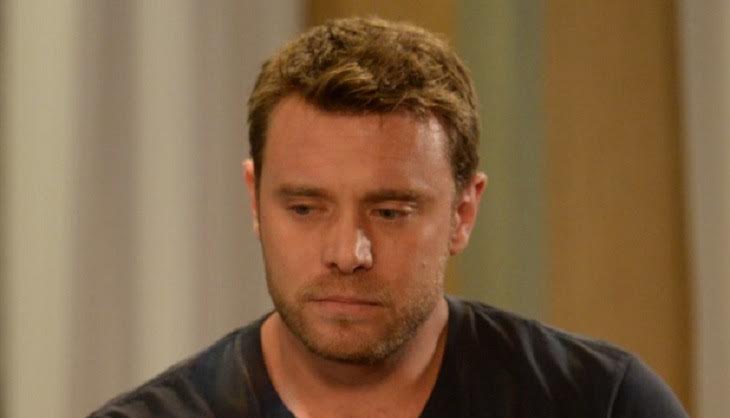 General Hospital spoilers tease that the mysterious new face in town, "Hank" (uncredited actor as of this writing) is likely up to no good where Drew Cain (Billy Miller) is concerned. Even though he seemed to be forthcoming with where he knew Drew from to Jason Morgan (Steve Burton) and who he was, Jason obviously picked up on some bad vibes.
Savvy General Hospital viewers will note that "Hank" didn't say much about him until he found out Drew wasn't Drew, but his twin. "Hank" told Jason he had been a contractor in Afghanistan when Drew was a Navy Seal stationed there and that they had been friends.
Jason wisely didn't give him Drew's contact information, but took his information to give Drew. Of course, Drew won't remember him even if he was telling the truth. Kim Nero (Tamara Braun) won't know about Hank either, since their relationship and son Oscar Nero's (Garren Stitt) conception took place before Drew was deployed. She has mentioned some troubles during his time as a Seal that she likely found out in her contacts with the Navy in an effort to find him.
Of course, Hank may just look sneaky and shady; some people just have those kinds of faces! Nevertheless it was obvious Jason didn't trust him, and when he gave Hank's contact info to Drew, he mentioned that Hank gave his information too easily.
"New Year's Eve is when we conceived Oscar… " #GH55 pic.twitter.com/woscuydr3M

— General Hospital (@GeneralHospital) December 28, 2018
Maybe he's just a friendly guy, but once Jason exited the building, he sure didn't look very friendly! Hank could be someone from Drew's past who's been trying to hunt him down, and possibly with nefarious reasons! Hank just doesn't have that NCIS look, and besides, if he were from the Naval Criminal Investigative Service, he'd have identified himself as such and shown a badge and ID.
Maybe Hank is just an opportunist with some dirt on Drew from the past. He may have known him (or of him) from Afghanistan, but what if he knew about a mission where civilians were killed in friendly fire under Drew's command or some other scandal?
What if he's been trying to track down Drew to blackmail him, since it's pretty common knowledge now that Drew is a Quartermaine with lots of money? He may not know about Drew's "new look" or he could have approached Jason and mistook him for Drew as a bluff! Whatever Hank's reason, he knows a lot about Drew and it doesn't seem to be a coincidence that Hank just happens to be in Port Charles, where Drew lives!
Stay tuned to GH and keep checking General Hospital spoilers frequently to see what happens!