General Hospital Spoilers: Will Valentin Intercept Sasha's New DNA Test And Change Results?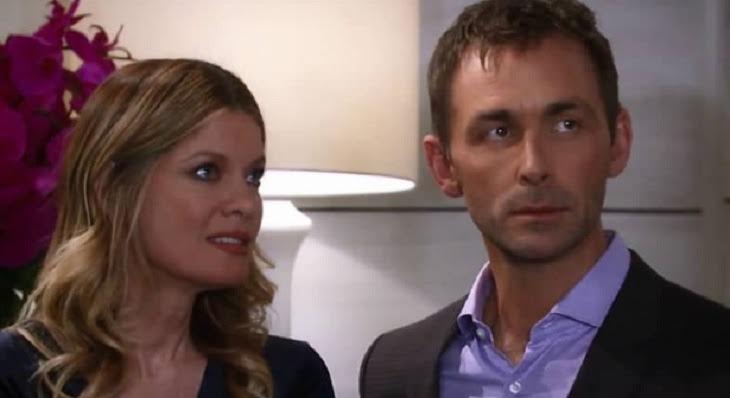 General Hospital spoilers tease that Valentin Cassadine (James Patrick Stuart) and Sasha Gilmore (Sofia Mattsson) will have something to worry about this coming week on General Hospital! Maxie Jones (Kirsten Storms) and Peter August (Wes Ramsey) are determined to find out if Sasha is really Nina's long-lost daughter or not, Maxie in particular, because she doesn't want to see Nina hurt. As for Peter, he no longer trusts Valentin!
Maxie's previous attempt at securing Sasha's DNA backfired, when she apparently plucked Stella Henry's (Vernee Watson) nail clippings out of the trash at the nail salon where she'd invited Sasha for a girl's day out. She was of course, trying to get Sasha's nail clippings! But what Maxie didn't realize, that when she plucked that "gray hair" out of Sasha's head after sneaking up behind her, she was being observed!
Valentin knew exactly what Maxie was doing, because she'd done the same thing to him one time to get his DNA, but for a much nobler reason; to try to get Cassadine medical information for her unborn baby's sake, because Liesl Obrecht (Kathleen Gati) wouldn't give her any.
Maxie needed to be aware of any genetic diseases on her husband Nathan West's (Ryan Paevey) paternal side, since Liesl's cover story had been that his father was Victor Cassadine (Thaao Penghlis)! From the looks exchanged between Sasha and Valentin, Sasha knew what Maxie was up to as well! Of course, now Sasha will no longer trust Maxie because she knows the nail salon date was only to get her DNA!
Sonny and Robert have hit a wall in their investigation, West Coast. How far outside the box are they willing to go to find Dante?
An all-new #GH starts RIGHT NOW on ABC! @MauriceBenard #GH55 pic.twitter.com/ZE28pW9oZW

— General Hospital (@GeneralHospital) March 11, 2019
Valentin was observed by Liesl obtaining DNA from her sister and Nina's mother Madeline Reeves' (Donna Mills) body prior to the funeral, allegedly to provide Nina with a fake daughter and to be able to fake DNA tests. Will he do the same thing this time and try to intercept and fake Maxie's new DNA test on Sasha?
It's still possible, with the unmistakable family resemblance, especially to Britt Westbourne (Kelly Thibaud) that Sasha is still a close relative to Nina, just not a daughter; but Valentin wouldn't know that! Stay tuned to GH and keep checking General Hospital spoilers frequently, to see the latest news and developments!
Read more news, spoilers, and gossip on our Celebrating The Soaps General Hospital home