General Hospital Weekly Spoilers August 13 to 17: Apology Tour Begins – Alexis Gets Terrible News – Michael Breaks Down!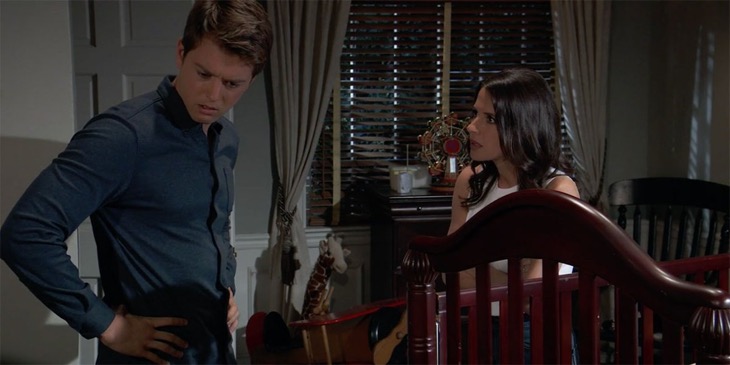 General Hospital (GH) spoilers for the week of Monday, August 13 through Friday, August 17, 2018 reveal apologizes are abundant, terrible news and emotions get the best of Port Charles residents. Viewers of the ABC soap opera will not want to miss out on this week's episodes!
GH sources tease that Kiki Jerome's (Hayley Erin) trial just got a lot more difficult to win as Ava Jerome (Maura West) demands to know the truth. Dr. Griffin Munro (Matt Cohen) is reluctant on the witness stand, but the fact that he slept with his lover's daughter is exposed! Kiki fears the worst, as her lawyer Alexis Davis (Nancy Lee Grahn) deals with the facts. The trial may not be the only thing Alexis deals with as spoilers reveal she will receive terrible news by the end of the week.
Scott Baldwin (Kin Shriner) is a slimy lawyer and not a very decent human being, but he does apologize this week. It remains to be seen whether he is sorry for his lack of commitment defending his retched client, Dr. David Bensch (James DePaiva), or if he feels guilty for putting his son, Franco (Roger Howarth) in the midst of this mess. Franco is also on the apology tour, but he also owes a few people apologies. Maybe father and son are both sorry they hid the truth from Ava, someone who considered them to be friends.
Marguax hopes to do something not many have done before: get answers out of Jason Morgan. Tune into a thrilling, new #GH – STARTING NOW on ABC! pic.twitter.com/0m8fXFHIx2

— General Hospital (@GeneralHospital) August 10, 2018
General Hospital spoilers show Jason Morgan (Steve Burton) has a working theory and will go see Robert Scorpio (Tristan Rogers), wondering if he thinks that Anna Devane (Finola Hughes) truly was the intended target.
Sonny Corinthos (Maurice Benard) will get a surprise visit later on this week. Josslyn Jacks (Eden McCoy) will apologize to her stepfather as well. Could Cameron's shoplifting arrest have given her a new perspective on her attitude and family? Sonny appears to have a busy week as he will also meet with Julian Jerome (William deVry) to have a private chat.
GH's Bobbie Spencer (Jacklyn Zemen) will voice her concern. Could this have something to do with Brad Cooper (Parry Shen) and Dr. Lucas Jones' (Ryan Carnes) son, Wiley? Meanwhile, Michael Corinthos (Chad Duell) finally gives into his emotions; but what does he do and will there be consequences?
Be sure to tune into ABC's General Hospital (GH) on Monday, August 13, 2018 to catch up on everything happening in Port Charles right now. Check Celebrating the Soaps often for updates, news, and spoilers!
Read more news, spoilers, and gossip on our Celebrating The Soaps General Hospital homepage