Neighbours Spoilers: Terese Willis and Paul Robinson Heat Up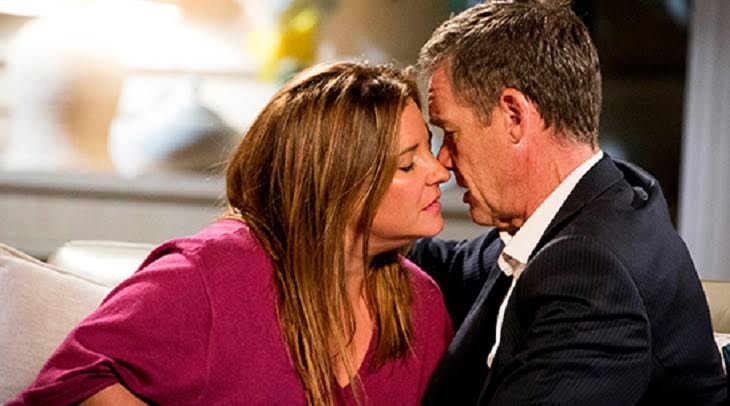 Neighbours spoilers show ever since Terese moved onto Ramsay Street (and even what she was married) the chemistry she shared with Paul was undeniable. But they've never seemed to work out, and Terese is currently in a relationship with Paul's son Leo Tanaka.
However, Paul and Terese are growing close again, and Paul comes seriously close to betraying his son next week.
Paul unknowingly and unwittingly makes Terese jealous when he is seen flirting with a glamorous new client visiting Erinsborough, Jane Fraser. As Paul proudly shows Jane the Robinsons Pines development she flirts with him in a playful manor, with Leo and Terese watching on.
Paul happily flirts back; he is single after all. But, even though Terese is supposedly happy with Leo, she is suddenly overcome with feelings of jealousy. This jealousy manifests later in the day when Terese accuses Paul of acting inappropriately with a client. Paul realises what's going on, and quizzes her on why she is so bothered by it.
When it comes to a hens do is it pizza or party? Why not both #Neighbours 🍕+👯‍♀️ pic.twitter.com/EkiNFv0k14

— Neighbours (@NeighboursTV) January 31, 2019
The arguments leads – as it always does with them – to flirty banter and tension between them. So much so, Neighbours spoilers tease Paul and Terese get extremely close and almost kiss before pulling away at the last second.
The next day Terese feels guilty, so seeks out Paul to talk about what happened. She makes it clear that nothing will happen between them – she's committed to Leo and won't do anything to hurt him. Paul agrees, he doesn't want to hurt Leo either, so they make a deal to let go of each other so that Leo doesn't end up hurt.
But knowing Paul and Terese's Neighbours history, is this really possible?
Tune into Neighbours on Wednesday 6th and Thursday 7th February to watch these scenes unfold.
Check out our exclusive Neighbours spoilers page for more details!
Want up-to-the-minute soaps news, spoilers, and gossip on your social feeds? Just hit 'Like' on our Facebook page and 'Follow' on our twitter