Counting On Fan Slammed By Jed Duggar
Krista Meadows is not a celebrity like the Counting On family and probably very few people ever heard of her. However, she is now featuring on social media after Jed Duggar called her out. The TLC fan scolded him and his family after there was a discussion about Jill Duggar publishing her book. Now, she's explaining why she felt compelled to say something to the Duggar's son.
Counting On – Scandals Affect The Duggar Family
Until Josh Duggar was finally convicted for CSAM offenses, things were all good with Jim Bob Duggar and his family. Popular, despite the molestation of his sisters by Josh, critics often got slammed by fans of the TLC show. But these days, their popularity dwindles. TLC dropped the show and the discussion moved to social media. At the moment, a lot of critics slam Jim Bob and Michelle for not keeping their girls safe from a predator.
Counting On fans know that people like Jed Duggar were not the ones who actually committed the offense. However, they seem to feel angry because apart from Amy King, Jill Dillard, and Jinger Vuolo, most people in the family don't address Josh's conviction. Of course, with Shiny Happy People: Duggar Family Secrets arriving this month, more blows might fall on the family, On top of that, Jill Dillard announced her book that is coming out in January next year.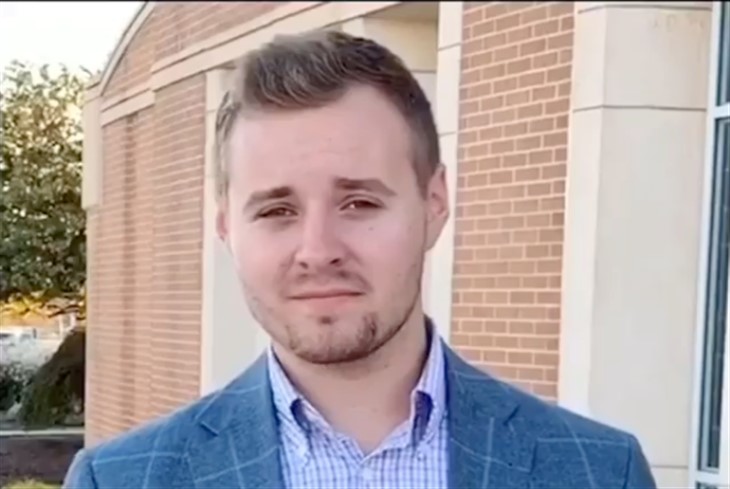 Counting On – Fan Gets Trolled By Jed Duggar
There are thousands if not millions of people commenting about the Duggar family. Social media has many platforms and each one seems to be a place to talk about the TLC family. It's not clear which post Krista Meadows commented on, but screenshots reveal that Jed Duggar responded when she scolded the family. Katie Joy of Without A Crystal Ball on Instagram, screenshot the comments and shared them on her social media.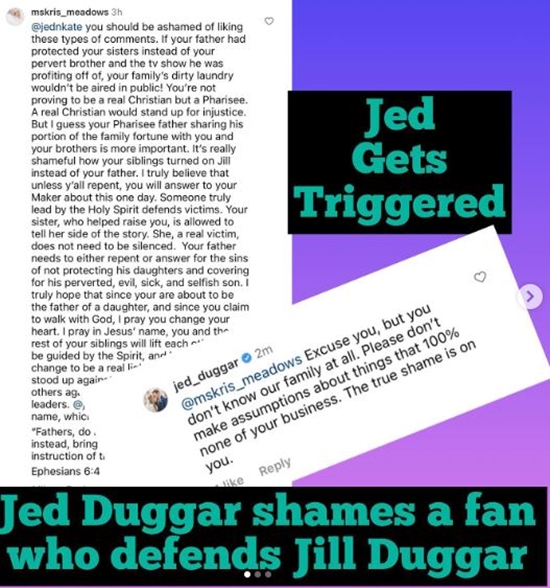 Counting On fan Krista Meadows talked about how the family should be ashamed of themselves. Pretty much she's furious that the girls in the family were not protected while Josh was. Anyway, the screenshot shows that Jed Duggar said, "Excuse you, but you don't know our family at all. Please don't make assumptions about things that [are] 100% none of your business." He added, "The true shame is on you."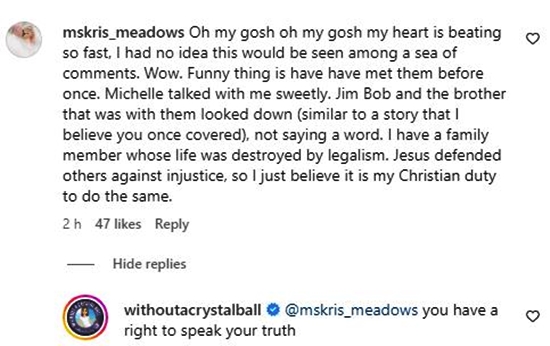 When Krista saw that an influencer had picked up on her comments, she was blown away. But she didn't bask in the glory for too, long. Instead, she explained, "I have a family member whose life was destroyed by legalism. Jesus defended others against injustice, so I just believe it is my Christian duty to do the same." Katie responded as well, saying to Krista, "you have a right to speak your truth."
Counting On – Others Praise The Fan Who Spoke Out
Counting On fans thought that Krista did the right thing. Another follower, Alexa Aday said to her, "what a wonderfully written comment you made to Jed! I'm glad you took the time, and that he saw it. You spoke the truth!"
Of course, others pointed out that fans who watched the show, saw the trial, read the books, etc, do have a right to comment on the Duggar family.
What are your thoughts? Do you agree it took some guts to call out Jed Duggar and his family? Do you agree that fans of the TLC show do have a right to have their say? Let us know in the comments below.
Be sure to catch up on everything happening with the former TLC cast right now. Come back here often for more Counting On news and updates.