Here's Why Baby Sussex Will Have An Easier Life Than His Cousins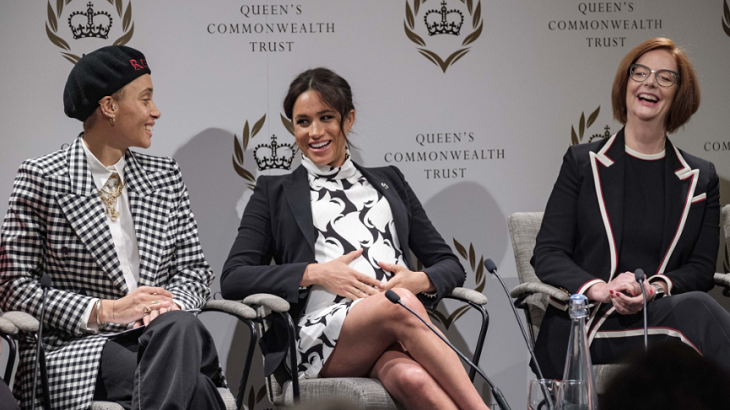 Baby Sussex hasn't even made his or her grand entrance into this world, yet a lot of royal fans can't help but wonder what kind of life the little tot will have. In fact, there's even speculation that Prince Harry and Meghan Markle's little bundle of joy will have a much easier life than his or her cousins, Prince George, Princess Charlotte and Prince Louis. Here's why.
According to E! Online, there will be less pressure put on Prince Harry and Meghan Markle's child, compared to some of the duties George, Charlotte and Louis will have in the future. One of the reasons why is because the tot won't have to carry the weight of having a royal title.
Also, little Baby Sussex will be a distant seventh in line for the throne. This means that the young royal will get to enjoy all of the perks of being a member of the British royal family without having to worry about being King or Queen one day.
Baby Sussex Will Not Have To Worry About Being In The Spotlight
Harry and Meghan's child will be able to pursue any of his or her passions or hobbies in life without having to worry about constantly being in the spotlight.
If that weren't enough, there's also the fact that this child will be able to call Prince Harry 'dad' and Meghan Markle 'mom.' The Duke of Sussex has always made it pretty clear that he can't wait to be a father.
What's more, Meghan has proven herself to be a kind, compassionate and eco-friendly loving person who will make a fantastic mom. Simply put, this baby has got it made!
The Duchess of Cambridge will visit the Henry Fawcett Children's Centre @HF_CC on Tuesday 12th March to see how @LeapLambeth are using the Parent and Infant Relationship Service (PAIRS) to support parents, carers and their children. pic.twitter.com/eSbqfeb1FN

— Kensington Palace (@KensingtonRoyal) March 8, 2019
In the meantime, let us know what you think by leaving us a line with your thoughts in our comments section below. And as always, come back to Celebrating the Soaps for all the latest news and updates on Prince Harry and Meghan Markle right here!
Visit our dedicated Celebrating The Soaps Meghan Markle page for all the latest news, interviews and photos!