Here's Why Meghan Markle Didn't Stand With Queen Elizabeth And Kate Middleton During The Remembrance Ceremony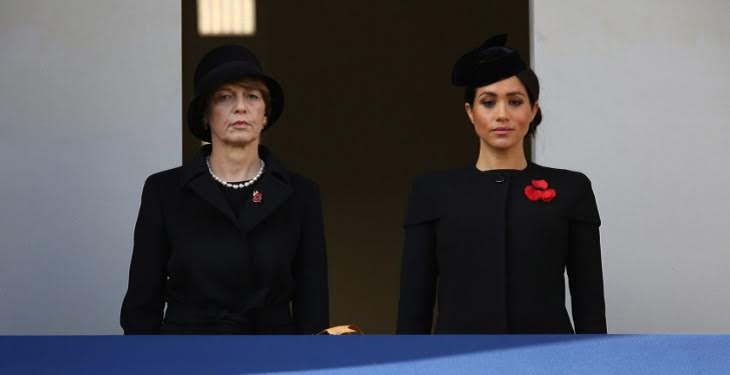 Is everyone getting along behind palace doors? That's what royal fans can't help but wonder as many eagle-eyed fans have noticed that Meghan Markle did not stand with Queen Elizabeth, Kate Middleton and Camilla Parker-Bowles during the Remembrance Ceremony in London this weekend. And apparently, there's a good reason for it.
According to People Magazine, Queen Elizabeth, the Duchess of Cambridge and Camilla, Duchess of Cornwall all stood together at one balcony while Meghan Markle watched the ceremony from a different balcony. In fact, she was situated by another window outside the Cenotaph war memorial in London. The pregnant role, who is expecting her first child next Spring, wore her hair back and had on a chic black coat for the event.
"Surely together you can harness innovation to allow us to fight back against the intolerance and cruelty that has been brought to the surface by your platforms?" — The Duke of Cambridge to social media companies #AntiBullyingWeek https://t.co/IRnCLIAWun

— Kensington Palace (@KensingtonRoyal) November 15, 2018
The reason why Meghan stood on her own is not because there wasn't enough room on the other balcony. Instead, it was because during official royal events, everyone is situated based on their "pecking order."
"She was not as prominent perhaps as some people might have expected, but there's a pecking order," Joe Little, managing editor of Majesty magazine, told People Magazine in a new interview. "There was no slight intended, but William being the older, more senior brother would go out [first] with his wife."
Little also added that Meghan was still in "good position" and that she wasn't left behind altogether. She was central rather than the alternative of being in the front row and along the balcony to either the left or the right.
In the meantime, let us know what you think by leaving us a line with your thoughts in our comments section below. And as always, don't forget to check back with Celebrating the Soaps for all the latest news on Meghan Markle, Kate Middleton and the rest of the British royal family right here.