Meghan Markle's New Christmas Traditions Revealed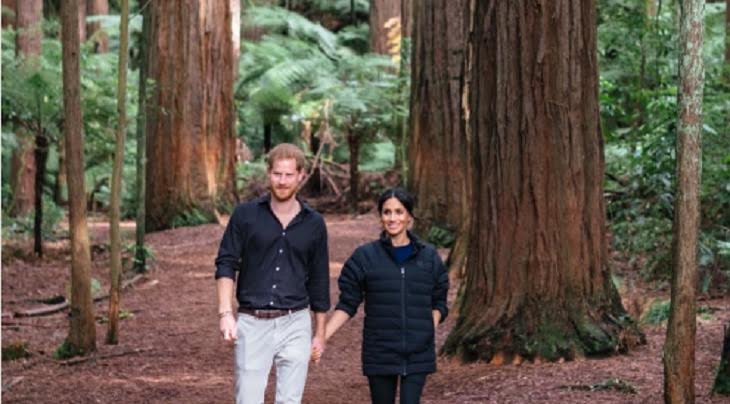 Now that Meghan Markle is an official member of the British royal family, it's without a doubt that she's getting used to all the changes in her life right now. According to a new report, the Duchess of Sussex is even expected to follow a set of royal family Christmas traditions and rules this year.
Apparently, the Duke and Duchess of Sussex – who are expecting their first child in the Spring of 2019 – will be celebrating Christmas a little different this year. The first thing that Meghan will have to do is watching Harry's annual soccer match. Her husband and brother-in-law Prince William will take part in a soccer game with some 200 workers from the Queen's country estate.
Sarah Gordy also received her MBE for services to the arts and to people with disabilities. pic.twitter.com/j65IgzMjdI

— Kensington Palace (@KensingtonRoyal) November 7, 2018
Also, instead of opening up her presents on Christmas morning, Meghan and the rest of the royal family will open their presents on Christmas eve. The next day Meghan will attend two church services on Christmas Day. The first service is at 9am and then there is a private one for the family so Queen Elizabeth can take communion. The royal family then go home for a change of clothes before their public service at St. Mary Magdalene Church. In other words, it's going to be a very busy Christmas Eve and Christmas Day for Meghan Markle this year!
So far Meghan herself hasn't made any comments about her holiday plans. But seeing how both she and Prince Harry have so much to look forward to in 2019 – along with a new baby – their first Christmas as a married couple will definitely be a magical one.
In the meantime, let us know what you think by leaving us a line with your thoughts in our comments section below. And as always, don't forget to check back with Celebrating the Soaps for all the latest news and updates on Prince Harry and Meghan Markle right here.