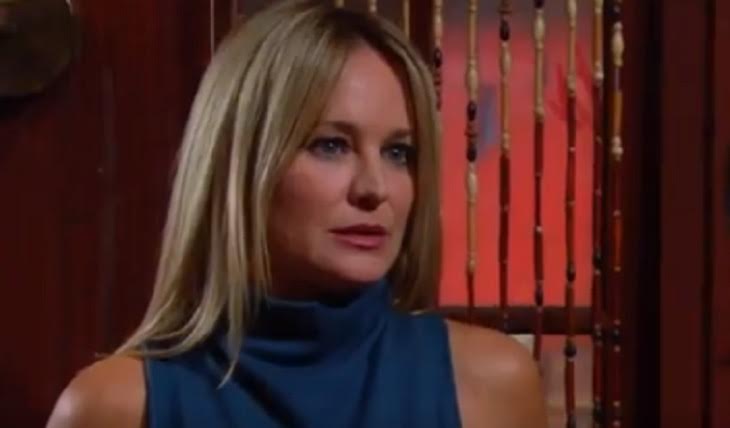 The Young and the Restless (Y&R) begins with Billy (Jason Thompson) picking up Sharon (Sharon Case) for the Jaboutique launch party; feeling he picked the best escort to taunt Phyllis (Gina Tognoni), but Sharon's goal is to prove she is moving on with her life from Nick (Joshua Morrow). Mariah (Camryn Grimes) is watching the video Tessa (Cait Fairbanks) has on her laptop, hearing JT's (Thad Luckinbill) body was inside the rug the night of their girls' party and they buried him in Chancellor Park.
The Young And The Restless Spoilers: Jabot Party Time!
Jack (Peter Bergman) and Traci (Beth Maitland) are all ready for the Jabot party, hoping Phyllis won't blow her chance a running the family company. Traci reveals Billy has a date but has no idea who it is. Phyllis and Nick are at Jabot as Nick reminds her that this is her night; they talk about how they will turn heads as Genoa City's new power couple.
Lola (Sasha Calle) arrives at GCAC, where she gives her staff a pep talk before the night begins. Kyle (Michael Mealor) is proud of her, but she tells him to let her do her thing and they will talk later. Mia (Noemi Gonzalez) comes out the bedroom in her gown for the party, surprising Rey (Jordi Vilasuso) who says it is not their scene and he won't be going. Mia convinces him to go which only makes her smile.
A crime reporter keeps calling Nick, but both Phyllis and Nick decide that tonight is not about that and they only want it to be a night to remember. Sharon and Billy want to have fun too, as he tells her she is not there to be his secret weapon; she admits he could be her secret weapon too. Sharon says Mariah won't be there since her and Tessa are dealing with some major stuff.
Y&R Spoilers: Mariah And Tessa Bicker Over Sharon
Mariah swears to Tessa that her mother wouldn't lie and she told her that JT left the house that night after arguing with Victoria and she gave him money to leave town. Tessa reveals the video is very real and the women didn't know they were being recorded because JT planted the cameras; she knows this because she found all the files on Nick's computer. It was a private storage account of JT's and he recorded the aftermath of his own death.
Mariah wants her to destroy her computer, but Tessa says she kept a copy, somewhere safe. Mariah orders her to stop talking about her mother like she is some heartless murderer, but Tessa says they have to talk about this is they want a chance to be together.
Phyllis And Nick Get A Shock
Abby (Melissa Ordway) wonders what is going on with Arturo (Jason Canela) who doesn't seem to be having any fun; but its obvious he is furious to see Mia and Rey, with his snide remarks. Phyllis and Lauren (Tracey E Bregman) get some photos together, finding Kerry (Alice Hunter) to join them, in order to talk to the press. While Phyllis is speaking, Billy and Sharon arrive, which infuriates both Nick and Phyllis; Billy suggests they give them both a show!
Tessa continues to talk to Mariah, initially feeling the same as her. She didn't believe it to be true, but the more she saw the four women, who couldn't stand each other were always together and so intense. Then there was Rey, the one customer Sharon didn't want her talking to. Mariah learns Tessa wrote letters to them to blackmail them and blasts Tessa, saying Nikki saved her and Sharon gave her a job; but Tessa defends her actions and how worried she was about Mariah and didn't hesitate saving Mariah and her sister. Mariah understands living a nightmare and wanting to break free because that is what she is living right now!
Today on #YR, Billy plots his revenge and Kyle schemes against Phyllis. WATCH FULL EPISODE: https://t.co/OoRjAw4jhl pic.twitter.com/UfiSo5v9NL

— Young and Restless (@YandR_CBS) November 14, 2018
Mia Stakes Her Claim On Rey
Sharon is impressed that Billy didn't jump in and take credit for the Jaboutique, attacking Phyllis in front of the press because it would have just caused more problems for Jabot in the long run. He leaves to get food, giving Rey a chance to speak to Sharon, both surprised to see each other there. Mia pulls Rey away from Sharon, who says she is there with Billy. Nate (Brooks Darnell) compliments the food and Jack says its Kyle's girlfriend who is making the food; all Kyle can do is gush about Lola and gives Nate a card.
Traci gives Phyllis props for the party as Billy demands to know where his credit is for the idea she stole. Phyllis says it is not all about him, but he reminds her that he still works there and the decent thing is to acknowledge that she inherited the concept. She reminds him that his track record will not help with sales and warns him not to force her hand and if he does, she will reveal why he is no longer CEO. He calls that low, but she says its almost as low as him having sex with her daughter, Summer (Hunter King).
Y&R Spoilers – Nick Confronts Sharon
Nick confronts Sharon, demanding to know if she is on a real date with Billy. She tells him to draw his own conclusions and betrayals are very bonding. Sharon tells him that his childish jealousy is beneath her and before she can finish Billy and Phyllis separate them. Billy reminds Sharon not to cause trouble as Phyllis tells Nick that power couples do not get into public fights with their exes.
Rey leaves Mia in search of a cold beer. Lauren and Michael (Christian LeBlanc) join her, when Mia asks Michael to join her on the dance floor. Esther (Kate Linder) tells Jack she has an appointment as Jaboutique tomorrow, looking forward to it; Jack introduces her to Kerry. Kerry hates this kind of thing as Jack brings her onto the dancefloor. Michael thoroughly enjoyed dancing with Mia, but Abby walks up and wants to know what is going on with the tension between Arturo and Rey. Mia advises her not to get between the two brothers and says she will fill the two in on some family history; Arturo pulls Mia away before she can say any more.
Tessa has another file that she told Mariah about. It was a transmission revealing the flowers and the big ugly statue from Chancellor park, so it must have been where JT was buried. She knew Sharon would know it was her if she asked for twenty thousand so she upped it to two hundred and fifty thousand. She explained how Nikki only sent her a dollar and then she sent a photo and got the rest; but when Rey did the press conference she knew she was right. Mariah knows only one thing for sure, that when JT returned to town it was Nick impersonating him. She feels blackmailing people is disgusting and she is blackmailing someone she loves, for murder.
Abby runs into Devon (Bryton James), introducing him to Lola. She hasn't exchanged five words with Kyle all night and hopes he understands. Arturo is extremely angry with Mia, telling she can't mess with him and Abby. Mia warns him that she will tell anybody about her truth and he can't stop her.
Nick praises Phyllis feeling they are doing a great job, toasting to their success; he wants to celebrate privately but she says they need to stay and suggests they hit the dance floor. Kerry has to go because she has an early day at the lab and Jack walks her to the car. Billy and Sharon join in dancing too.
Mariah feels absolutely broken thinking Tessa believes Nikki, Victoria (Amelia Heinle), Sharon and Phyllis got drunk on tequila and ganged up on an abusive JT and killed him. It may be normal in Tessa's world but there has to be a reason but the answers are not in this room and Mariah needs to know. She pleads with Tessa to let her out, saying Tessa has been rationalizing all night but it doesn't matter because the only person that matters more to her than Tessa, she chose to torment and scare the hell out of her and bleed her dry. She cannot expect Mariah to forget about it. Tessa lets Mariah go.
Mia Exposes Affair With Arturo
Sharon and Billy dance as well as Nick and Phyllis. Arturo chases after Mia, which Rey sees; he grabs Arturo and orders him to stay away from his wife; but Arturo tells him it is Mia who is playing the games as Mia plays innocent. Rey warns Arturo he doesn't want to do this here. Abby and Lola watch as Mia tells them both Miami is ancient history and Rey was always too busy for her, second place to his job; if it wasn't for that, she never would have touched his brother. She tells Rey he is the reason she had an affair with Arturo!
The Young and the Restless airs weekdays on the CBS network. Check your local listings for times. In the meantime, drop us a line with your thoughts in our comments section below. And as always, don't forget to check back with Celebrating the Soaps for all the latest news, updates and spoilers on The Young and the Restless and all of your favorite daytime television shows right here!