'The Young and the Restless' Spoilers: Devon's Comeback Begins – Lily Meets With Brother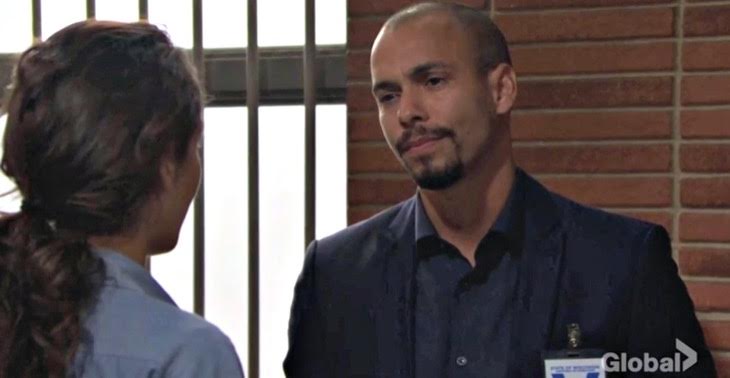 The Young and the Restless spoilers tease that Devon (Bryton James) has started to release the resentment he had for his sister, Lily (Christel Khalil). Yes, Neil's (Kristoff St. John) children have a heart-to-heart this week. This emotional opening bodes well for all involved.
The meeting at Walworth State Prison didn't seem likely to happen as recently as last week. But Charlie (Noah Alexander Gerry) has been skipping school, which his uncle learned. Devon was then touched by his nephew's deal. Charlie would return to classes if he went to see his mom in prison.
Devon's world exploded the instant a tractor trailer broadsided Lily's sedan. Hevon's baby was lost. Days later, so was Hilary (Mishael Morgan).
Lily didn't know that she was responsible for the crash. Hilary's soon-to-be second time sister-in-law had no awareness of the apparent overhead traffic light being red as she drove through the intersection and into an oncoming big rig. But Shauna (Camryn Hamm) was watching from the sidewalk, after she'd stormed out of Hevon's penthouse, while Lily, Hilary, and Charlie searched for her in the aforementioned vehicle.
After Shauna felt compelled to blurt out what she'd witnessed at Hilary's post-funeral gathering, Charlie also affirmed his girlfriend's story. That led to Lily's admissions to Paul (Doug Davidson) and an officer he later assigned to talk with her.
Michael (Christian Le Blanc) didn't feel confident about Lily's defense. Then, surprisingly, Shauna spoke on Lily's behalf and with Devon's approval. Lily's brother also later recanted his initial victim's impact statement and surely influenced the sentencing judge's revised ruling.
Devon makes a decision about his relationship with Lily today on #YR. pic.twitter.com/go1Np24Dah

— Young and Restless (@YandR_CBS) September 13, 2018
Lily is just weeks into her twelve-month sentence. As Y&R fans know, Khalil has moved to recurring status. So, her character won't be seen nearly as often. That's a devastating blow to Lane fans.
Separately, Neil was oddly missing from Lily's sentencing hearing. Dialogue excused him as needing to be with Sophia (Julia Pace Mitchell) and Moses (most recently played by Dax Randall).
St. John was recently married. So it's possible that Neil's unusual absence in these critical scenes was directly related to the actor's nuptials. Hopefully St. John isn't working on recurring status, as has become the fate of some other long-time cast members, including Khalil and Davidson.
Meanwhile, Devon is attempting to adjust to life without his wife and what would have been his first-born child. That would be too much for any human being to digest in the months after experiencing two dramatic deaths and the forced removal of his sister. So, current progress represents a comeback path.
Celebrating The Soaps is a leading source for everything linked to The Young and the Restless. Check back regularly for Y&R spoilers and news!
Read more Celebrating the Soaps news, spoilers, and gossip on our The Young & The Restless homepage