The Young and the Restless Spoilers Friday, August 10: Cane Attacks Devon – Ashley Draws Battle Lines – Summer's Plot Fails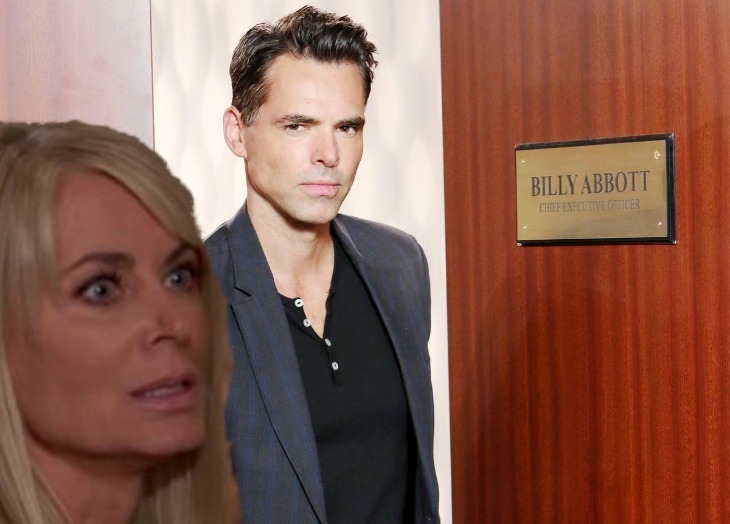 The Young and the Restless (YR) spoilers for Friday, August 10, 2018 reveals, Devon (Bryton James) is spending a quiet moment at home, when Nate (Brooks Darnell) drops a package off that was meant for Hilary (Mishael Morgan).
Jack Confronts Summer About Lying
Summer (Hunter King) meets with Jack (Peter Bergman), who confronts her about lying that Phyllis (Gina Tognoni) was fed up with Billy (Jason Thompson) and open to the idea of reuniting with him. He informs her that Phyllis is definitely not leaving Billy. He angrily tells her to stay out of other people's love lives.
Nate Gives Devon A Package Meant For Hilary
Devon opens the box, finding a silver baby rattle inside along with several baby items, including a painting that says, "Love you more than all the stars in the sky." Nate tries to comfort Devon, talking about when his love, Caroline died and all the moments he would push everything behind until a memento would pop up.
He finally realized these reminders weren't there to hurt him, but to remind him how important she was to his life. Devon tells him that he doesn't want to forget Hilary nor what they meant to each other. Nate picks up a card from the floor and informs Devon that Hilary didn't buy these things.
Nate hands Devon a letter which is from some of Hilary's devoted fans. Devon shares how committed Hilary was to people and loved giving back to people.
Lily Worried She Could Go To Prison
Lily (Christel Khalil) and Cane (Daniel Goddard) arrive at HWG from court. She says hearing the formal charges made her really feel she could go to prison. Cane tells her it won't happen; but she reminds him that Michael (Christian LeBlanc) said she can be facing 20 years.
He doesn't believe the world can be that cruel, she feels her one mistake cost Devon his family but Cane feels it shouldn't cost them theirs. He apologizes but is still upset Shauna (Camryn Hamm) said anything. She tells him it is out of their hands now and she wouldn't have been able to live with herself if this was hidden; until the judge sentences her, she wants to spend as much time with Cane and the kids.
Ashley Believe JaBoutique Is Too Risky
Phyllis sits down with Ashley (Eileen Davidson) and Kyle (Michael Mealor), who want to have a business meeting. Ashley pulls no punches, wanting to know if Phyllis is capable of doing the right thing, in spite of who she is sleeping with. Ashley and Kyle both agree that the JaBoutique is too much of a risk. Phyllis reminds him that he went naked to promote Jabot's latest project, but Ashley said that paid off.
Ashley Wants To Stop Billy
Phyllis defends Billy's decision to hide this from everyone, including her; saying he didn't want to burden her. Ashley knows she is lying and they are going to do whatever it takes to stop Billy. They want to know if Phyllis is with them or not. Phyllis says the company is doing better with Billy leading it, the numbers are up and he has pushed Jabot into the 21st century. Ashley tells her that Billy has diverted a huge sum of money from RND to lease retail space to get this project off the ground; but if there is no money to create new product, what the hell is Billy going to sell in those stores?
Ashley flat out tells Phyllis she knows about Billy's "creative accounting" but Phyllis chooses to stand behind her man. Ashley feels sorry for Lauren (Tracey E. Bregman) for Phyllis lack of loyalty, and Phyllis reminds her that she just tried to get her to help get Jabot back from the only actual ABBOTT working at Jabot! Ashley says John Abbott was her father, and she will do anything to protect her father's legacy, not apologizing if she gets caught in the crossfire. Phyllis promises she won't shed any tears when Billy kicks her to the curb. She leaves, Ashley tells Kyle to keep an eye on her.
Charlie and Mattie Are Scared For Lily
Cane meets Mattie (Lexie Stevenson) at Crimson wanting to know what is going on with Lily, admitting her and Charlie (Noah Alexander Gerry) are scared. Cane says emotions are running high with people saying things they don't mean. They all feel guilty for their part in all of this as Mattie insists on knowing the truth. Cane admits Lily told the police the truth and they are going through legal proceedings; Mattie realizes her mother could still go to prison, Cane hugs her saying things will work out.
Jack Not Sure He Wants To Go Back To Jabot
Jack catches Kyle at the GCAC bar revealing Ashley tried to talk sense to Phyllis but ultimately she backed Billy. Kyle tells Jack things are as bad at Jabot as Jack said they would. The only way to remove the Blood Abbott clause is if Billy calls a board vote and recommends the clause be removed. Jack admits he loves his new job and isn't even sure he wants to come back to Jabot. Jack is curious about Kyle's plans, but he says, "There is always a way to get what you want, as long as you're willing to go far enough!"
Jack & Phyllis Realize Summer Was Setting Them Up
Jack goes to find Phyllis at Jabot, apologizing for kissing her and doesn't want things to be awkward between them. Jack says this all has to do with what Summer said to him and together they realize that Summer was trying to set them up.
Kyle meets with Summer by the pool, she quickly wants to talk about who her mom is sleeping with. Kyle says he didn't see Phyllis sleep with anyone on the camera. He is ready to leave but Summer is sure now it wasn't Jack her mom slept with.
Phyllis vents to Jack about Summer's manipulation, saying them reuniting is a childish fairytale. Phyllis learns that Jack gave Summer the impression that it wasn't such a terrible idea that they got back together, admitting he thought they had a chance too. Phyllis tears up, believing he still hated her for what she did with Billy. He says you don't just stop loving someone like her. They didn't fall out of love it was Victor's (Eric Braeden) sick plan that made her turn to Billy. She reveals that she cares for Jack deeply but only wants to be with Billy. He's glad they got this all straightened out before he left town, but before he walks out he tells her that Billy better do right by her. Phyllis stares at a picture of her and Billy.
Cane Attacks Devon, Nate Stops Him
Nate answers Devon's door when Cane barges in. Nate tells him it isn't a good time and reminds him that Lily chose to turn herself in as he pleads with Devon, telling him that he had to tell his little girl that her mom might go to jail. Cane begs him to defend Lily and Devon tells him to get out as this isn't about punishment, its about justice. He definitely plans on going to the hearing and ask the judge to give her the maximum sentence and she can watch her kids grow up from behind bars! Cane goes to attack Devon but Nate drops him to the ground.
Nate Tells Devon He Agrees With Cane
After a few moments, Cane thanks Nate for stopping him and he apologizes to Devon for taking a swing at him. Devon tells him he meant everything he said. Nate tells him to go, but as he leaves Cane reminds him that Lily is still his sister. Nate admits to Devon that he would have done the same thing Cane just did and what Devon is doing won't make things any better.
Mattie arrives at work, revealing to Lily that she knows what is going on and Cane talked to her. Lily jokes how curious Mattie always was. Mattie wants Lily to tell her the truth and Lily tells her what Michael is using as her defense – it sounds like a strong case, they are hopeful but Hilary and the baby died and all Lily can hope for is the legal system to treat her fairly. She's ready to face the consequences. She reminds Mattie that she will love her no matter what.
Summer Wants To Bet She Will Bed Billy
Kyle sarcastically isn't surprised that Billy didn't dump Phyllis to be with his girlfriend's daughter. Summer tells him he should try taking a risk sometime, like Billy. She is sure she has everything worked out, but Kyle is positive she will never get Billy into bed and she wants to bet on it.
Summer informs Kyle that she and Billy kissed; insisting that Billy wants it and its only a matter of time. She bets she get Billy into bed by the end of the month – if she wins, she gets his sports car. She offers herself to him if he wins. He initially says he has "been there, done that", but then doesn't want to turn down a sure thing.
Cane Makes A Mysterious Call For Help
Cane sits at GCAC holding a drink when Jack spots him. Cane tells him that Lily turned herself in, they both agreed it was a horrible accident. Jack encourages him to give Devon some time but Cane feels they are out of time as Devon plans on going to the hearing and ask for the maximum sentence. Jack says no justice is served by Lily going to prison. Cane is trying to figure out a way to stop it, asking Jack what he would do. Jack tells him to do whatever it takes to protect his family! Cane makes a mysterious call for help.
Ashley Tries To Get Jack's Help To Stop Billy
Ashley stops Jack before he leaves town and informs him of everything Billy has done, saying it might be the end of Jabot. Jack tells her it isn't his problem. Ashley knows he is happy with Dark Horse and suggests he might be interested in a small leasing company. Jack wants to know if this company has to do with the multiple leases Billy has on the stores. He likes Ashley's devious ways and promises he will talk to Nick (Joshua Morrow). She says no one would be more proud of him than their father if he can pull this off. She begs him to act fast.
Cane Plans To Run With His Family
Cane looks through several passports and calls to book 5 one-way tickets from Genoa City, Wisconsin to Sydney, Australia.
The Young and the Restless airs weekdays on the CBS network. Check your local listings for times. In the meantime, drop us a line with your thoughts in our comments section below. And as always, don't forget to check back with Celebrating The Soaps for all the latest news, updates and spoilers on The Young and the Restless and all of your favorite daytime television shows right here!
Read more Celebrating the Soaps news, spoilers, and gossip on our The Young & The Restless homepage