General Hospital Spoilers Friday, August 10 : Ava Confronts Kiki – Kevin Pleads with Carly – Chase and Jason Want Justice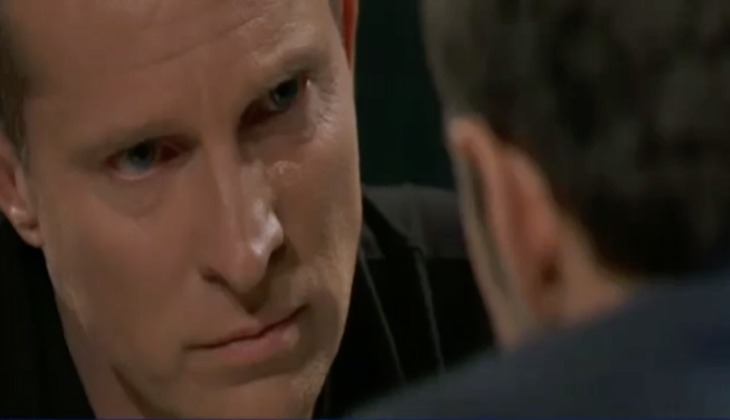 General Hospital (GH) spoilers for Friday, August 10, 2018, reveal the teens continue to struggle in their personal lives. Testimony begins as confrontations happen outside the courtroom door. Justice is sought while mental and physical health become the key topics for key members of the Port Charles community. Friday's episode is one GH fans will not want to miss!
GH sources indicate Josslyn Jacks (Eden McCoy) continues down a destructive path, while Drew Cain (Billy Miller) assures his son, Oscar (Garren Stitt) that she is retreating from everyone. Joss meets with Cameron (Will Lipton) at Kelly's inquiring if he just stole something. How far is Joss willing to act out before her actions have consequences?
Meanwhile, at the courthouse, Ava Jerome (Maura West) confronts her daughter, Kiki (Hayley Erin), asking her if there is anything she would like to tell her. Will Kiki tell the truth? Alexis Davis (Nancy Lee Grahn) begins to question Dr. Griffin Munro (Matt Cohen) on the witness stand, wanting him to reveal if he and Kiki are "just friends". Now that Griffin has sworn on the Bible, will he reveal that he slept with Kiki, or will Ava end up exposing her daughter and lover in a fit of anger?
General Hospital spoilers show Dr. Kevin Collins (Jon Lindstrom) comes to visit Carly Corinthos (Laura Wright), pleading with her to come back to therapy. By the look of Carly's face, it's the last place she wants to be!
Detective Harrison Chase (Josh Swickard) sits with Jason Morgan (Steve Burton) in the interrogation room wondering if Jason wants justice. Will the two join forces to seek the justice they rightly deserve?
GH's Sonny Corinthos (Maurice Benard) takes Stella Henry's (Vernee Watson) advice and speaks to his father, Mike Corbin (Max Gail) about his options as his health deteriorates. Mike misunderstands the situation and accuses Sonny of wanting to get rid of him. How will Sonny deal with Mike's reaction and reassure him that things will be okay?
Be sure to tune into ABC's General Hospital (GH) on Friday, August 10, 2018, to catch up on all these amazing stories happening right now. Check Celebrating the Soaps often for updates, news, and spoilers!
Read more news, spoilers, and gossip on our Celebrating The Soaps General Hospital homepage