The Young and the Restless (YR) News: Eileen Davidson's Exit Tough Blow for Y&R – Recast, or Revival Ahead?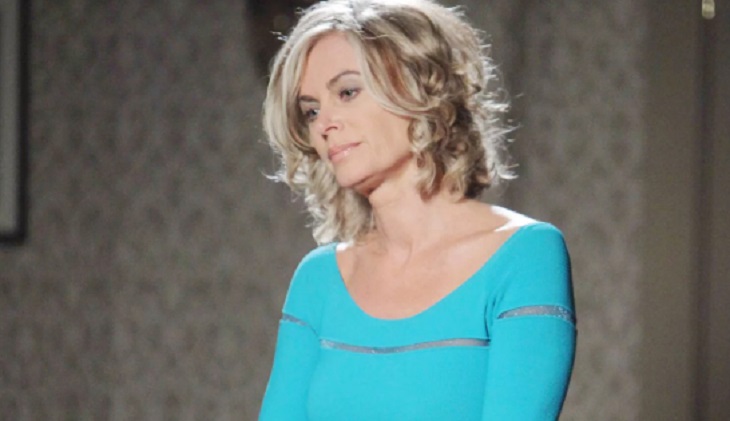 Just weeks after Mishael Morgan (Hilary) announced her departure from 'The Young and the Restless', Eileen Davidson's voluntary cast exit has been announced. Fans of this iconic soap know that the loss of two lead characters will be responded to with recasts, other cast revivals, or alternative character arrivals.
Davidson's Y&R tenure began in 1984. She's had multiple runs since then, with the most recent resulting in a 2018 Daytime Emmy Award as Outstanding Lead Actress in a Drama Series.
Ashley's second go-round with Dina (Marla Adams) began last year. The first took place shortly after Davidson initially joined the cast in the mid-1980's. The emerging Abbott family learned at that time that Brent Davis (Bert Kramer) was Ashley's biological father, instead of John Abbott (Jerry Douglas).
LOVE Y&R? SUBSCRIBE TO OUR THE YOUNG & THE RESTLESS NEWSLETTER, HERE!
The storyline that hinted at being revisited a year ago didn't play out in Ashley's backstory being revised. Instead, it's led to her assumed half-brother Jack's (Peter Bergman) own paternity quest.
Daytime fans know that Davidson's work has extended beyond Y&R. She's had multiple runs on NBC's Days of our Lives. Davidson was honored with an Outstanding Lead Actress in a Drama Series Emmy in 2014 for her work as Kristen DiMera.
Among other entertainment work, Davidson has also appeared on multiple seasons of Bravo's The Real Housewives of Beverly Hills. Friend and RHOBH co-star Erika Giardi recently revived her Farrah role in Genoa City.
Davidson's stints on Y&R have allowed her to play someone who became a legacy character. Ashley, along with Jack, are the heads of what has been one of GC's most prominent families. So, Davidson's departure would seem to imply that the current Abbott identity drama will be wrapped up before Ashley's exit.
It's possible that Y&R will opt (or is opting) to recast this role. Considering Davidson's multiple returns in the past, it could be possible that the Ashley character will simply be written out of town. With whatever proves true, fans of this great actor wish her the best moving forward.
Celebrating The Soaps is a leading source for everything linked to 'The Young and the Restless'.
As always, more detailed spoilers and a full collection of pictures for the week in question will appear here on Celebrating The Soaps, when there will be more clues and hints over exactly what's going on.
The Young & The Restless airs weekdays on the CBS network.
---
Read more news, spoilers, and gossip on our The Young & The Restless homepage
Want up-to-the-minute soaps news, spoilers, and gossip on your social feeds? Just hit 'Like' on our  Facebook page.