The Young and the Restless (YR) Spoilers: Phyllis Learns About Billy the Kid – Summer's Plan Advances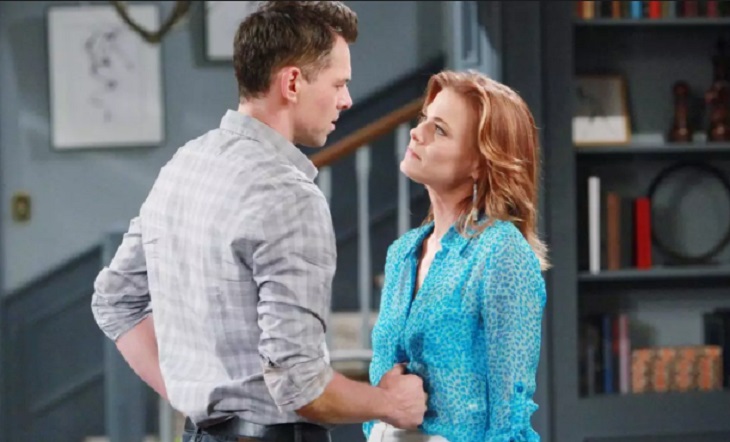 Billy (Jason Thompson) bought a million dollar-plus yacht that he named Jaboat on 'The Young and the Restless'. He ordered bonuses be paid to Jabot board members based purely on quarterly projections, not realized profits. Both acts reflected the mindset of a revived gambler, as Phyllis (Gina Tognoni) will come to know.
Summer (Hunter King) quickly glammed onto a goal after bursting back into Genoa City. She wanted to slice Billy off her mom. How best to do that? Flirtation was accompanied by a planned lure.
She claims that poker became her game of choice during a two-year absence from this famed Wisconsin setting. So, Summer seemingly got herself in a ten-thousand dollar hole. A desperate text begged for Billy's help and he arrived at the Genoa City Athletic Club.
LOVE Y&R? SUBSCRIBE TO OUR THE YOUNG & THE RESTLESS NEWSLETTER, HERE!
The poker game that was being played represented the second time Billy was directed to the life he'd abandoned earlier this decade when Billy Miller's face was being slapped by Vickie (Amelia Heinle). The first game happened at Summer's condo, where Phyllis and Thompson's version of this character have remained.
The trap Billy allowed himself to be snared in is classic. He know shares a secret with Summer. That implies digging deeper until an eventual reveal happens, which could include Phyllis learning that her man has been lying to her.
Summer's belief that Phyllis discarded Jack for no good reason appears to enlighten part of this aforementioned plan. King's character may not have all steps in order and could be working in stream of consciousness fashion. Regardless, it's clear that she doesn't respect what Phyllis wants and is using Billy to undermine her mother's happiness.
Billy lost a lot of money and Jaboat at his most recent high stakes game. In that instance, Summer didn't entice him. No, he went voluntarily and lied to his initial enabler before consenting to her presence by his side.
The problem Billy has created for himself is at least three-fold. He's willingly reentered the destructive life, again, betrayed Phyllis, and literally gambled away Jabot assets in the form of that yacht.
As Summer's plan advances, Billy's life implodes. What are the odds that 'Philly' survives?
As always, more detailed spoilers and a full collection of pictures for the week in question will appear here on Celebrating The Soaps, when there will be more clues and hints over exactly what's going on.
The Young & The Restless airs weekdays on the CBS network.
---
Read more news, spoilers, and gossip on our The Young & The Restless homepage
Want up-to-the-minute soaps news, spoilers, and gossip on your social feeds? Just hit 'Like' on our  Facebook page.