The Young and the Restless Spoilers: Phyllis Smells A Set-Up, Is J.T. Video A Hoax?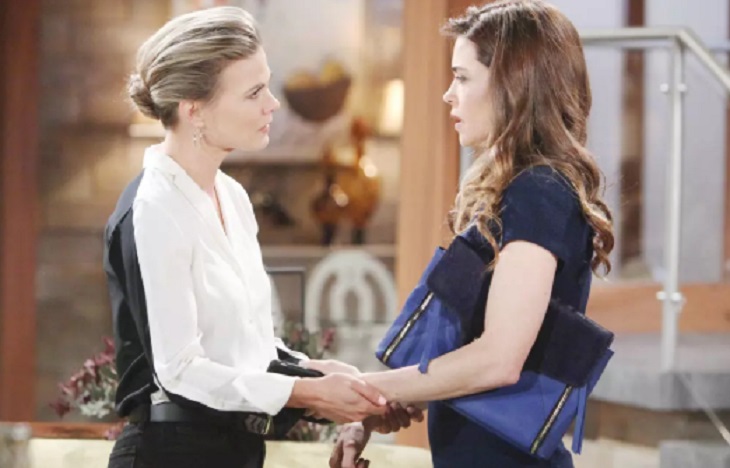 The Young and the Restless spoilers tease that Phyllis has a new plan, and it might not be one that everyone will be on board with.
It all begins when Nikki, Victoria and Sharon are stunned over the security footage that they see at Crimson Lights. It shows a blurry image of a man that might be JT. Does this mean that he is indeed alive and walking the streets of Genoa City? This leads Phyllis to come up with a plan to dig up his grave, just to be sure that his body is still there.
Actress Gina Tognoni, who plays Phyllis on the show, recently told CBS Soaps in Depth in an interview, "Phyllis is very suspicious about the surveillance video. Her first instinct tells her that this is a setup and the video footage is fake. Phyllis saw with her own eyes that JT was as dead as a doornail. He had no pulse! They buried him there, so she just doesn't believe that he could make his way out of the ground."
LOVE Y&R? SUBSCRIBE TO OUR THE YOUNG & THE RESTLESS NEWSLETTER, HERE!
For Victoria, she can't help but wonder who would go so far as to mess with a surveillance video that would ultimately mess with the rest of their heads.
Gina added, "Phyllis knows that if someone is involved with Victor in any capacity, they would have good reason to go after him. Nothing is too outrageous when it comes to those who might want revenge against Victor and doctoring this tape is the perfect way to do it."
Of course, fans will have to tune in to find out what will happen next! In the meantime, The Young and the Restless airs weekdays on the CBS network. Check your local listings for times.
In the meantime, drop us a line with your thoughts in our comments section below. And as always, don't forget to check back with Soap Opera Spy for all the latest news, updates and spoilers on The Young and the Restless and all of your favorite daytime television shows right here!
As always, more detailed spoilers and a full collection of pictures for the week in question will appear here on Celebrating The Soaps, when there will be more clues and hints over exactly what's going on.
The Young & The Restless airs weekdays on the CBS network.
---
Read more news, spoilers, and gossip on our The Young & The Restless homepage
Want up-to-the-minute soaps news, spoilers, and gossip on your social feeds? Just hit 'Like' on our  Facebook page.