Young And The Restless Spoilers: Audra Charles Sets Her Sights On Seducing Kyle Abbott
Young and the Restless (Y&R) spoilers for the week of June 12 imply Audra Charles (Zuleyka Silver) will be set on a new challenge in Genoa City. She's already placed a scheme in motion to get to the top at Newman Enterprises, and she may be looking for a little romance to add to her career goals.
The Young And The Restless Spoilers – Nate Hastings Has Turned Into An Office Ally, Only
According to The Young and the Restless spoilers, Ms. Charles once had a "thing" for Nate Hastings (Sean Dominic), but it looks like these two will only be scheming work colleagues for now. Not to say that they may not end up in bed, but Audra herself said she "gave up" on the idea of a romantic connection with Hastings now that he's in a bonafide relationship with Victoria Newman (Amelia Heinle).
Meanwhile, she was once scheme mates (and bedmates) with Tucker McCall (Trevor McCall), but he's laser-focused on proving himself to Ashley Abbott (Eileen Davidson). Charles has nothing romantically on the go in GC, and she may be bound and determined to change things on that front.
It wasn't too long ago that Audra made sure she personally returned Kyle Abbott's (Michael Mealor) phone at GC's bicentennial gala. It seemed as if the soap was setting something up between the two, and now, the show could be pulling the trigger on things.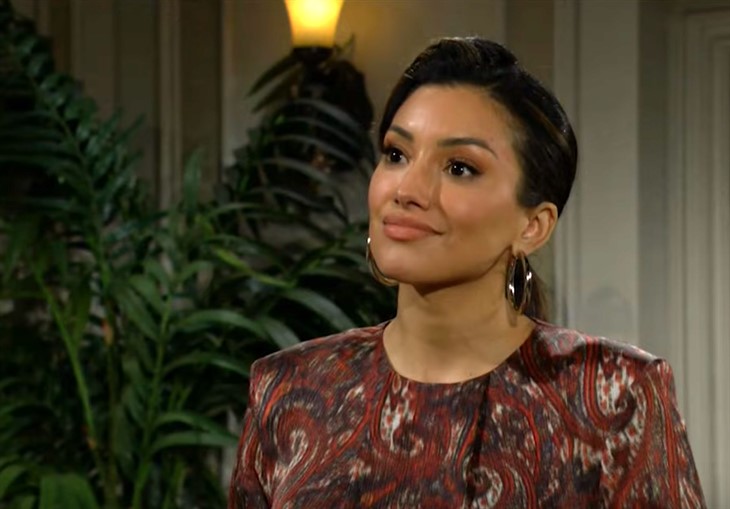 Y&R Spoilers – Skyle Is Imploding & Audra Could Step In
Things are about to explode in the Skyle marriage as Kyle finds out that his wife Summer Newman Abbott (Alison Lanier) has known about her mom Phyllis Summers (Michelle Stafford) being alive. If Ms. Charles finds Mr. Abbott wallowing in self-pity at the GCAC, she could lend him a shoulder to cry on. Of course, it may be a "right place, right time" type of situation for Audra.
She'll find Kyle upset, and she could quickly become the person he starts turning to, to complain about his marriage woes. She was very interested in meeting Kyle during the town's celebration, and she'll be that much more interested in knowing his marriage is falling apart so she can move in and set up shop in his bedroom. Kyle's not only handsome, but he's also a prominent (and rich) member of the community. As Audra is an opportunist, Mr. Abbott is exactly the type of man she wants to sink her claws into.
Will Kyle become Audra's next "challenge"? Comment on this storyline, below. Tune into the popular CBS soap each day to see what happens next and chehttps://youtu.be/O9eJSCxrm1Mck CTS out for the latest Young and the Restless spoilers, updates, and news.