Young And The Restless Spoilers: Sharon Rosales Will Be The "Hero" In This Cameron Kirsten Storyline
Young and the Restless (Y&R) spoilers hint that things are about to get very intense in the Cameron Kirsten (Linden Ashby) "stalker" storyline. He's currently holding Faith Newman (Reylynn Caster) and has sent Sharon Rosales (Sharon Case) a clear message: he wants a meeting with her, and only her.
Of course, Sharon is terrified, but her momma bear instincts have been ignited, and she knows she needs to be the one to bring her daughter home. So, what happens next?
The Young And The Restless Spoilers – A Major Face-Off Is On The Horizon
Y&R spoilers hint that both Nick Newman (Joshua Morrow) and Sharon will have a face-off with Kirsten. Sharon showed her ex and Victor Newman (Eric Braeden) the text from Cameron, during a recent episode, and made it crystal-clear that she needs to meet with the psychopath, alone.
This means, no Nick, no Newman Security, as Sharon feels that this could cause Kirsten to go over the edge, and thus jeopardize Faith's life. With that being said, Nick likely won't listen and won't allow Sharon to confront Cameron on her own.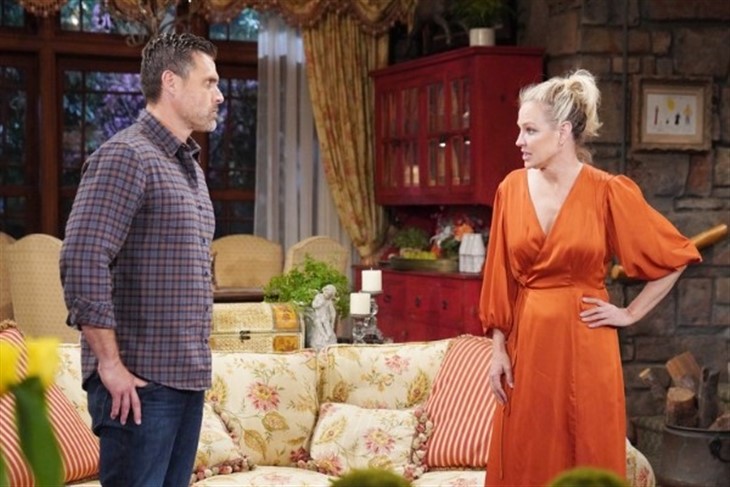 Y&R Spoilers – Sharon Rosales Pushes Her Fears Aside
Sharon has a ton of trauma where Cameron's involved. He abused her, played mind games, and came back from the dead after she thought she had killed him.
When Kirsten was an "issue" last time around, Nick stepped up to the plate and helped. Sharon was a very different woman back then. She was someone who loved to be saved, and Nick enjoyed playing the role of her knight and shining armor.
A lot has changed in Sharon's life over the past two decades. She's healed over the years, she's gotten emotionally stronger, and she's become a fighter. While Nick will probably follow Sharon to meet up with Cameron, something could happen to him in the mix of things.
If he and Kirsten brawl, Cameron could knock Newman out, leaving Sharon alone. What will Ms. Rosales do? She'll likely push her fears aside, battle Cameron on her own, bring him down and be the one to save Faith, all in one swoop.
Will Sharon end up being Faith's hero? Will she save the day for everyone, and herself? Leave your comment below!
Don't miss a moment of the popular CBS soap and visit this site each day for the latest Young and the Restless spoilers, news, and updates.