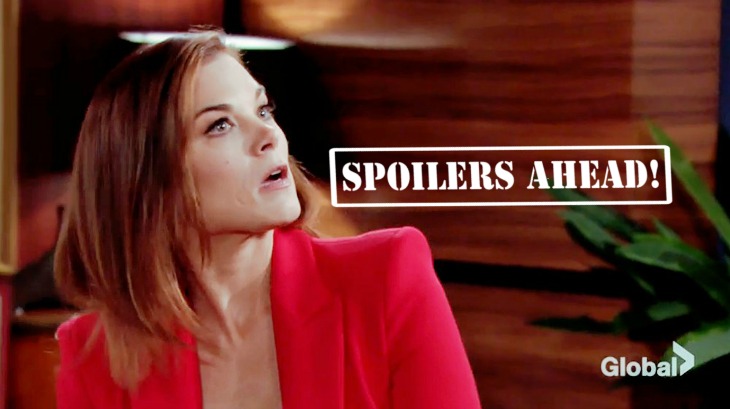 The Young and the Restless (Y&R) begins with Mariah (Camryn Copeland) returning home, finding Tessa (Cait Fairbanks) awake and waiting. Tessa calls Mariah a "bad liar," revealing Victoria (Amelia Heinle) was there and knows she was the blackmailer.
Y&R Spoilers – Nikki Impressed With Victoria
Nikki (Melody Thomas Scott) is impressed with how Victoria handled it as Vicky admits it felt good to be that strong and in control. Nikki feels she is on her way back to being the resourceful woman she used to be, but Victoria is concerned about Tessa not being neutralized. Nikki says without evidence and her reputation, the GCPD won't believe her; both women know someone else knows their secret and Victoria is determined to know who moved JT's (Thad Luckinbill) body and why?
Cane (Daniel Goddard) talks to Shauna (Camryn Hamm) about her Thanksgiving. He shares things with Lily (Christel Khalil) were a bit rough but they made the best of it; he's there to check up on Devon (Bryton James). Shauna reveals she has no idea where Devon is because he didn't come home last night.
Young and The Restless Spoilers – Cane and Nate Worry About Devon
Down at the GCAC bar, Phyllis (Gina Tognoni) sits beside Devon who says he and Hilary (Mishael Morgan) are proud of her taking the reigns at Jabot. Devon tells her he went to a concert last night, reminding him why he got into this business in the first place; it was Jack (Peter Bergman) who pushed him to live life again.
Okay as I mentioned earlier here's how the Devon story should go featuring #Hevon #YR

It has been a few months for Devon who hasn't really grieved for Hilary and the unborn child and now that everybody in his life has gone back to their normal..their reality it's tough for him. pic.twitter.com/u0Wehegjja

— Candice (@Candypooh) November 25, 2018
Phyllis understands that Jack is dealing with loss as he copes with Dina's (Marla Adams) deteriorating health too. Phyllis tells Devon that everyone who loved Hilary loves him too and she is there for him no matter what. Cane is concerned about Devon, but as he is questioning Shauna Nate (Brooks Darnell) comes in; Shauna leaves for school and Nate believes not everything is okay with Devon.
Y&R Spoilers – Tessa Reveals Victoria Is Blackmailing Her
Tessa tells Mariah about how Victoria is blackmailing her now, wanting to pin JT's murder on her. Tessa really wanted to believe Mariah would really care about her still and reminds her the first rule of a long con is to know when it is over. She tells her Victoria has the thumb drive, which confuses her until Tessa reveals she made a backup. Mariah blows up, saying her big meaningful gesture of giving her the drive the other night was just a robotic movement for her; Mariah is the one who feels like the idiot now. Tessa says she had her secrets, but her love never wavered for Mariah but she doesn't think Mariah can say the same.
Kyle (Michael Mealor) bumps into Lola (Sasha Calle) at Crimson, where he kisses her, admitting he missed her the whole weekend. He asks her to give him a weekend and he can make the plans in advance; but she blows him off, asking if they can talk about this another time and rushes off.
Nate tells Cane about the raging party he found at Devon's place in the middle of the day; pretty sure Devon didn't know the names of most of the people in his place. Cane reminds him that they can try to fool themselves that things are normal, but they're not; Nate says they need to keep reminding Lily they are there for. Cane wonders if Devon is shutting his sister out again or not. Devon walks in, wanting to know if he walked into the wrong penthouse, as he thought he lived there. Cane demands to know where he was all night.
Wednesday, Tuesday, November 27 Y&R Spoilers – Tessa Tries To Explain Her Actions
Tessa tries to explain why she kept the video, but Mariah grew up the same way. Tessa says she had hoped for more, but expected less and that is exactly what she got from Mariah. She wished Mariah would have warned her, but Mariah feels she moved back in to see if there was anything worth saving; Tessa asks if there was, but leaves before Mariah can answer.
Y&R Spoilers – Phyllis Suspects Victor
Phyllis meets with Nikki and Victoria, who finds it funny that they were being terrorized by a little barista. Once again, they are trying to figure out why someone would move JT's body. The only conclusion they have is someone did it to protect them, Nikki gets a call from Victor (Eric Braeden) and it dawns on Phyllis that it might be Victor who moved the body. Victor talks about getting an office up and running but needs someone to run it when he gets back and has someone in mind.
Phyllis and Victoria talk about it, thinking maybe it would be Jack or Nick (Joshua Morrow). Phyllis doesn't think Billy (Jason Thompson) would do it, because putting her behind bars would be better than willing the WSOP; Victoria disagrees because Billy would implicate the mother of his children too. Phyllis learns Sharon (Sharon Case) and Billy were consoling each other when she found out Phyllis moved in with Nick. Victoria thinks Billy is different these days – more grown up; Phyllis reminds her there is no such thing as a "new and improved" Billy and hopes she is misunderstanding what Victoria is saying.
Devon did not intend to stay out all night, reassuring them the next time he won't as music is his life and he won't be neglecting it anymore. Devon tells Nate that was what the parties have been about and knew that is what they were talking about. His business is very different than Nate's, and frankly, Nate doesn't know him very well so he needs to butt out. Devon asks them to leave so he can shower; but Cane stops him, asking why he isn't wondering about his sister.
The Young and The Restless Spoilers Nikki and Victor Offer Summer A Job
Nikki meets with Summer (Hunter King) for tea, revealing they are looking for someone young and hungry who can be mentored by Victor; saying she is exactly what he is looking for. Nikki and Victor want to keep it in the family and Summer questions if this is just a jab at her dad, Nick. She likes her job at Fenmore's and overwhelmed at the job offer as Nikki promises she will help her in every way she can. Summer asks for some time; Nikki advises her not making turning this down as a mistake.
Summer finds Kyle at Jabot, who says they need to fire some influencers and begins to walk away from her. Summer wants his advice and gives her 6 minutes. Kyle feels it is an incredible opportunity and he would do it in a second, reminding her she has nothing tying her to Genoa City; especially him. She questions him about his happiness exposing that she has been stalking Lola's social media; he suggests she get a hobby. Summer reiterates that she appreciates him more than Lola. He tells her not to put his life on hold for him, he will always care about her; but he isn't in that place anymore.
Devon wants to know if anyone has considered how hard it would be for him to sit across from Lily and be grateful for all the things they have in life, after everything she has taken from him? He doesn't want to make things worse, knowing the sentencing hearing ended badly because of what he said and maybe that is another reason he didn't go. He knows they don't approve but he is doing whatever he can to survive right now.
Mariah Cannot Accept Tessa Is Two People
Nikki returns to Victoria's, saying she hates that when Victor comes back from Dubai he is going to have to answer more questions from the GCPD. Summer calls Nikki, saying she will take the job as Mariah arrives and confronts Nikki and Victoria, saying at least she expected their trust after everything she has done and lost! They sit Mariah down, telling her about the money and the thumb drive; Mariah can't make sense of the two different Tessas. Nikki says some people choose to accept who people are and decide to stay anyways and that is a choice Mariah needs to make.
Summer Quits Her Job
Summer hands Phyllis her resignation and that she already spoke to Lauren (Tracey E. Bregman). Phyllis thinks it has to do with Billy, but Summer says what she is looking for is not in Genoa City, at least it isn't right now. Meanwhile, Kyle takes Lola to the GCAC to talk about why she lied about not wanting to go to the cabin. Kyle shares about how a romantic weekend would be, but she wants him to be real that romance is just something he'd do to get to the sex.
#YR CDN Recap has Summer accepting Victor's job offer, Mariah and Tessa having it out, and Lola stunning Kyle with an admission… https://t.co/hGw0ERzHd5 pic.twitter.com/0vHwnNxAFu

— Candace Young (@CandaceLYoung) November 26, 2018
Devon returns downstairs, where Cane apologizes, feeling he should have been more sensitive about this. Devon says them having a beer and talking is cool, but him coming over there and lecturing him like he broke curfew isn't. Cane says this is a definite change and Devon is very different; Devon agrees that there is a before and an after, nothing will be the same, including him.
Tessa returns home, finding Mariah holding the ripped teddy bear. Tessa puts herself down, knowing she is damaged goods but she wants to know why Mariah is still there. When she doesn't have an answer, Tessa tells her to leave her alone, but Mariah doesn't want her to be alone saying life would be easier if she could take her heart out and put it on a shelf.
Lola Shocks Kyle
Kyle admits he wants to have sex, she's absolutely gorgeous. She wants him to slow down and he agrees, saying that is all she had to say. He asks her to stop avoiding him and he won't pressure her to go to the cabin; they can hang out and whenever it happens they will plan it. Lola finally admits to Kyle that she is still a virgin, shocking Kyle.
Phyllis is surprised by Summer's announcement, especially when she reveals she has a job offer in Dubai for Newman Enterprises in the Real Estate division and Victor's hand-picked her. Phyllis rips up her resignation, saying Summer will work for Victor Newman over her dead body!
The Young and the Restless airs weekdays on the CBS network. Check your local listings for times. In the meantime, drop us a line with your thoughts in our comments section below. And as always, don't forget to check back with Celebrating the Soaps for all the latest news, updates and spoilers on The Young and the Restless and all of your favorite daytime television shows right here!