General Hospital Spoilers: Sparks Fly Between Drew And Margaux – Billy Miller And Elizabeth Hendrickson Reunited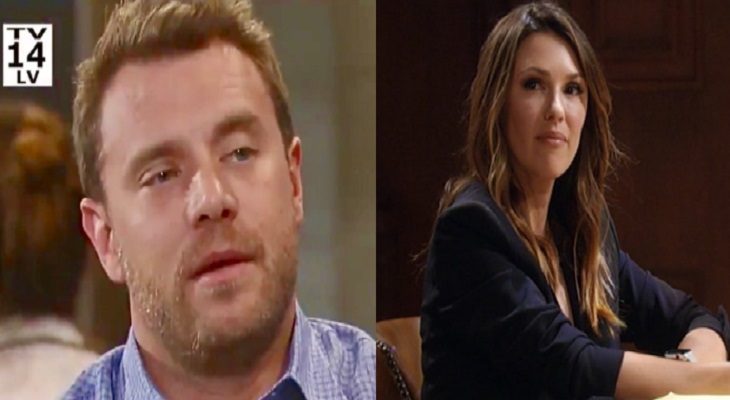 General Hospital spoilers indicate that Drew Cain [Billy Miller] is about to get a second chance with a new woman, Margaux [Elizabeth Hendrickson]. This is after his close friends encourage him to make a fresh start after he has an intriguing encounter with the beautiful DA.
As a matter of fact, it's Drew, Sam [Kelly Monaco], and Mike that get together when Drew realizes that while he can't make up for his loss memories, he can certainly make new ones. And if there is one person who is willing to help make that happen for him, it's his ex, Sam.
According to ABC Soaps in Depth, General Hospital co-writer Shelly Altman puts it this way, "Sam has never stopped caring for Drew and loving him in some way. It is her own conflict about what that way is since the return of Jason that has kept her away from both men."
LOVE GH?  SUBSCRIBE TO OUR GENERAL HOSPITAL NEWSLETTER, HERE!
What's more, Sam Morgan is encouraging Drew to meet up with Margaux in hopes that he might forget some of the things they recently shared. And if there's one person who is also hoping that Drew moves on, it's his good pal Curtis.
Shelly added, "Sam knows that some of Drew's recent memories – the memories of being with her that the created together – are probably painful right now. And she would very much like him to find happiness."
And while Drew and Magaux's first encounter might have been a little bizarre, there's another one that will happen very soon, whether Drew is ready for it or not.
General Hospital airs weekdays on the ABC network. Check your local listings for times. In the meantime, let us know what you think by leaving us a line with your thoughts in our comments section below.
And as always, don't forget to check back with Celebrating The Soaps for all the latest news, updates and spoilers on General Hospital and all of your favorite daytime television shows right here!
General Hospital airs weekdays on the ABC network.
---
Read more news, spoilers, and gossip on our General Hospital homepage
Want up-to-the-minute soaps news, spoilers, and gossip on your social feeds? Just hit 'Like' on our Facebook page.