General Hospital Spoilers Wednesday, September 27: Gladys Terrified, Chase Shocked, Trina Furious, Marshall Anxious
General Hospital Spoilers for Wednesday, September 27,2023, reveal that Eddie Maine/Ned Quartermaine (Wally Kurth) has a gig at the Savoy.
Harrison Chase (Josh Swickard) is brought up to speed. Sasha Gilmore (Sofia Mattsson) stops Glady Corbin (Bonnie Burroughs) from leaving.
General Hospital Spoilers Highlights
General Hospital Spoilers reveal Curtis Ashford (Donnell Turner) is glad to be back in the mix at the Savoy. Curtis hasn't been a the club a lot since he was shot in the back and paralyzed.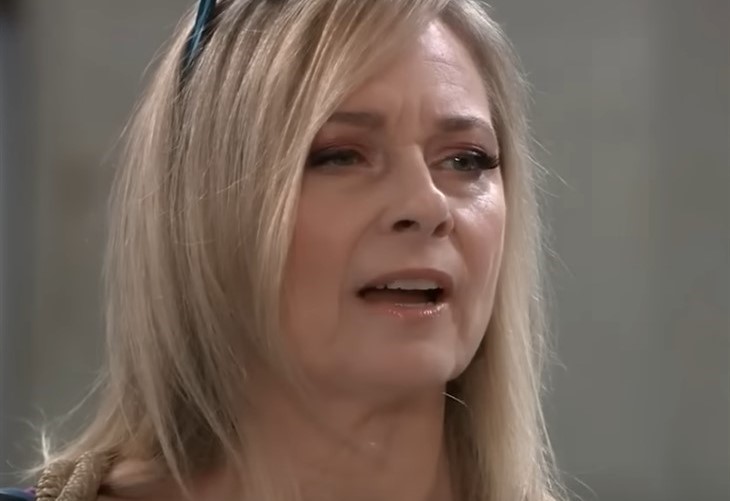 However, Curtis is back for a special performance and is loving being with the regular Savoy crowd. Will Selina Wu (Lydia Look) try to crash the party?
Olivia Quartermaine (Lisa LoCicero) is Eddie's date at the Savoy. Eddie had tried to book a gig there before but it didn't really go well.
However, Marshall agreed to Eddie playing if he finished his new song. Eddie hadn't finished it yet but fans are hoping that it ends with him realizing that Olivia is the woman of his dreams.
GH Spoilers – Marshall Ashford Is Anxious
Marshall Ashford (Robert Gossett) is anxious to hear Eddie's new song. Marshal has heard part of the song and promised Eddie this gig to get the song out in the open.
Will Eddie finish the song and realize that Olivia is who he wrote it about? Will Eddie finally realize that he is Ned thanks to Marshall's shot at the stage again?
Chase learns the truth about Cody going to Ferncliff to save Sasha. Chase will also learn everything that Sasha has been through thanks to Glady and her doctor pal.
MUST READ – GH Spoilers: Dr. Montague Tries To Finish Off Sasha, Who Will Save Her?
Will Chase get the chance to bust the doctor before he gets his hands on Sasha again? The doctor is rumored to try to go after Sasha again, will he succeed in getting rid of her this time?
General Hospital Spoilers – Trina Robinson Blames Spencer Cassadine
Trina Robinson (Tabyana Ali) will end up being late to work when she returns to the job. Of course, Trina blames Spencer Cassadine (Nicholas Chavez) for being late.
READ THIS: Find out what happens next on General Hospital.
All Ava is likely to be worried about is that Trina and Spencer had a good time while they were away. Will Trina tell Ava all about her trip now that she is back home?
Sasha tears into Gladys when she stops by her apartment and finds Gladys ready to skip town.
Of course, Sasha knows about Sam's call to Gladys and that she is ready to take off. Sarah will confront Gladys about everything she has done to her and will be ready to make Gladys pay.
Will Sasha send the mother-in-law from hell to prison where she belongs?
Be sure to catch up on everything happening with GH right now. Come back here often for General Hospital spoilers, news, and updates.