B&B Recap And Spoilers Thursday, August 24: Liam Walks Away, Finn's Plea, Eric Feels Discarded
The Bold And The Beautiful (B&B) spoilers for Thursday, August 24 indicate that Hope Logan (Annika Noelle) says she lost her way and made some choices that weren't like her.
Hope still loves Liam Spencer (Scott Clifton). Hope wants to know if it really is over between them. John "Finn" Finnegan (Tanner Novlan) thanks Steffy Forrester (Jacqueline MacInnes Wood) for seeing him and begs her to come home.
Ridge Forrester (Thorsten Kaye) wonders why Eric Forrester (John McCook) is there. Eric accuses Ridge of ignoring him.
The Bold And The Beautiful Spoilers – Eric Forrester Feels Disrespected
Eric wonders if Ridge is trying to forget that he is a part of the company. Eric says his and Ridge's collaborations have been some of the best. Eric wants to do one more. Eric needs to get these ideas down right away.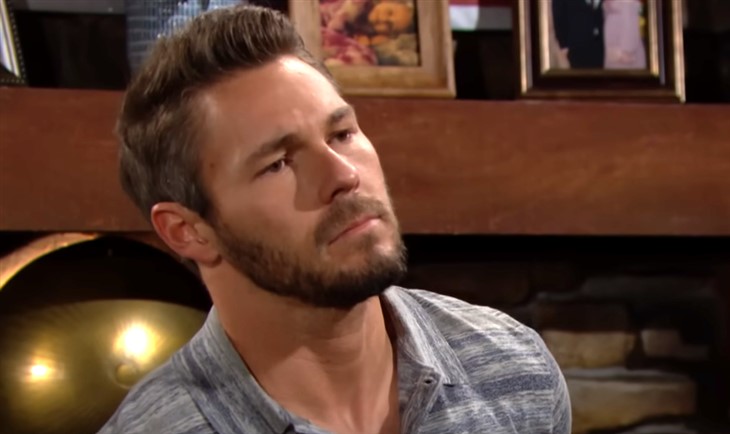 Eric has inspired Ridge his whole life. Ridge thinks Eric should take it easy. Eric believes that Ridge doesn't think he is viable anymore.
Ridge thinks Eric needs to realize that things are working like he asked for. Eric says he hasn't lost his touch. Ridge wants to know what is going on.
Ridge didn't mean to offend Eric. Eric cannot be dusted off and brought out every now and again. Eric wonders if Ridge is going to throw him out too.
B&B Spoilers – John "Finn" Finnegan Beg For Forgiveness
The Bold And The Beautiful spoilers suggest Steffy has been avoiding Finn because she doesn't know how to answer him. Steffy tells Finn to never doubt her love for him. Steffy is still upset about the beach. Steffy cannot get past Finn hugging Sheila Carter (Kimberlin Brown).
Finn cannot spend another night away from his wife. Finn offers to move to Eric's so they can be together. Finn wants to remind Steffy why they have fought so hard. Why they are meant to be together. Finn cannot spend another night away from his wife and kids.
READ THIS: Find out what happens next on The Bold and The Beautiful.
Finn knows he has made mistakes. Steffy still cannot forget Sheila. Finn reminds Steffy of Monaco when they reunited. Steffy thought Finn was dead, it was a miracle. Finn knew then that nothing was ever going to keep them apart. Finn wants Steffy to tell him she never wants to be apart again.
The Bold And The Beautiful Spoilers – Liam Spencer Walks Away From Hope Logan
Liam is glad Hope is taking responsibility. Liam says everyone loves Hope. Hope asks if Liam loves her. Liam will always love Hope. Liam and Hope are both sorry for their part in this. Liam says Thomas Forrester (Matthew Atkinson) is a one-woman man. Hope says she brought that up to justify her actions.
Liam is not that type of person. Hope wants to know if they can work to reunite their family. Liam wants Hope to ask herself something. Hope says it always felt like there was a third person in their relationship. Liam wants to know if it has always felt that way.
Liam questions if Steffy will always be there like Thomas was for him. Hope believes that Liam is the only one who can answer how he feels about Steffy. Liam says his feelings are really complicated right now. Liam says they could talk about Steffy and Thomas or they could talk about here and now.
Hope wants to know if they are going to try to hold this together for Beth. Hope cannot take back what she did. Liam loves Hope and he loves their life together. Liam says he cannot do it. Liam cannot forgive and forget, not Hope and Thomas.
Hope asks if this is it, he cannot forgive her. Hope thinks she misread what Liam wanted. Hope loves Liam. Liam kisses Hope on the head and says he loves her too before leaving.
Be sure to catch up on everything happening with B&B right now. Come back here often for The Bold And The Beautiful spoilers, news, and updates.