B&B Recap And Spoilers: Finn's Bold Position, Brooke's Silence, Liam Denies Responsibility
The Bold And The Beautiful (B&B) spoilers for Wednesday July 19, 2023 tease that John "Finn" Finnegan (Tanner Novlan) and Steffy Forrester (Jacqueline MacInnes Wood) discuss how strong their marriage is.
Brooke Logan (Katherine Kelly Lang) thinks about her conversation with Hope Spencer (Annika Noelle). Ridge Forrester (Thorsten Kaye) interrupts Brooke's thoughts. Ridge says Brooke is a million miles away. Liam Spencer (Scott Clifton) meets with Hope at the cabin.
The Bold And The Beautiful Spoilers: John Finnegan Anticipates Liam Spencer's Move
Finn asks Steffy what time Liam is coming by. Finn wants Hope and Liam to work all of this out. Finn supports Liam spending time with Kelly Spencer (Sophia Paras McKinlay) but not with Steffy. Finn says that he knows Liam is in an emotional freefall.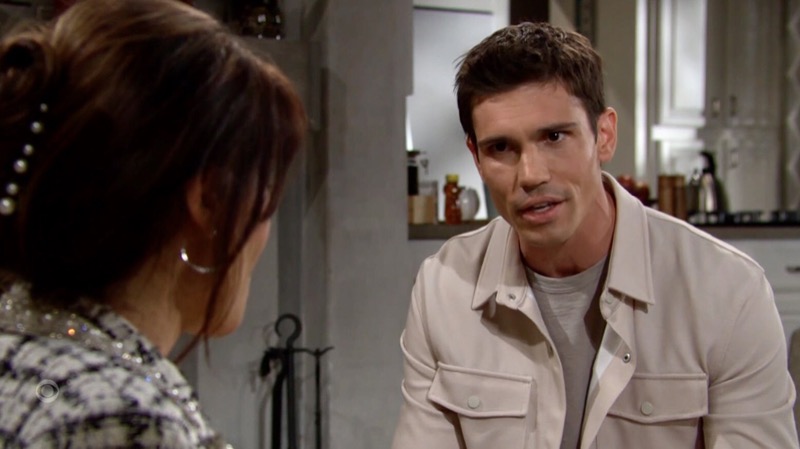 Finn will not put up with Liam coming after Steffy. Finn isn't jealous, he just wants to protect his family. Steffy tells Finn he has nothing to worry about. Finn says maybe some people cannot fight the romance of Rome.
Ridge Forrester Tries To Reassure Brooke Logan
The Bold And The Beautiful spoilers Ridge wants to know if Brooke has any news. Ridge thanks Brooke for going to talk to Thomas Forrester (Matthew Atkinson). Ridge never thought their reunion would be upstaged by Hope and Thomas kissing.
Ridge feels bad about what Hope and Liam are going through. Ridge is glad that Brooke knows this isn't Thomas' fault. Brooke hasn't told Ridge what she walked in on.
Ridge asks Brooke what happened when she saw Thomas last night. Hope says it wasn't at all what she expected. Ridge says Thomas has done a lot to Brooke and her family. Ridge says Thomas is a better man, he is really trying to do better.
Ridge says Brooke needs to give Thomas a chance. Thomas is trying. Ridge believes that everything will work out for the best. Ridge thinks Hope and Liam will work this out. Brooke says so many lives will be affected if Liam and Hope cannot fix this.
B&B Spoilers: Hope Spencer Wants Liam To Own His Part In Their Divorce
Hope tells Liam they need to decide what to do about their marriage. Hope wants to talk about Liam and Steffy as much as he does about her and Thomas. Hope isn't going to lie to Liam, she takes responsibility for her part in this.
Hope says Liam ran straight to Steffy when he saw Hope and Thomas kissing. Hope talks about her childhood and how she watched Ridge do this to her mother for years.
Hope refuses to be the woman that cries over a man who cannot make up his mind. Liam knows what Hope is doing. Steffy has not been an issue for years. When Steffy told him that Hope had feelings for Thomas he believed her.
Hope says Liam always does this. Liam says he had to earn Hope's trust back. Liam says he doesn't know what is going on between Hope and Thomas.
Hope says Liam wanted a divorce so his life is his, and her life is her. Hope shows Liam that she has removed her rings. Liam says Hope beat him to it, she took off her ring first.
Liam says Hope needs to realize that this is about her and Thomas, not him and Steffy. Liam has not done anything wrong.
Hope says Liam has planted seeds of doubt all through their relationship. Hope thanks Liam for opening her eyes. Hope doesn't want to spend the rest of her life with a man wondering where his affections lie. Hope tells Liam to go find love, go find Steffy.
Be sure to catch up on everything happening with B&B right now. Come back here often for The Bold And The Beautiful spoilers, news, and updates.