B&B Recap And Spoilers Friday, August 11: Finn Begs For Another Chance, Ridge Gets Answers, RJ Learns The Truth
The Bold And The Beautiful spoilers for Friday, August 11 indicate that John "Finn" Finnegan (Tanner Novlan) wants Steffy Forrester (Jacqueline MacInnes Wood) to come home.
Finn says he won't let Sheila come between them and the kids. Finn believes Liam is the real problem. Ridge Forrester (Thorsten Kaye) brings up Liam and Hope Logan's (Annika Noelle) divorce. Ridge wants to know how Liam feels about his daughter.
RJ Forrester (Joshua Hoffman) wants to know what is going on between Hope and Thomas Forrester (Matthew Atkinson).
The Bold And The Beautiful Spoilers – Hope Logan Explains Why She Left Liam Spencer
RJ knows Hope's divorce has a lot to do with what happened with Thomas in Rome. Hope says there is nothing more to say about Liam and herself. Hope says this is not about just her and Thomas.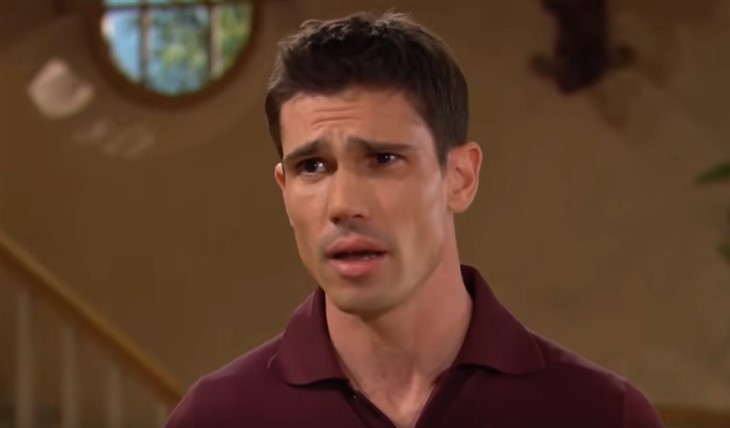 Hope tells RJ it is about Liam's love for Steffy. RJ questions Hope's thoughts. Hope says Liam has feelings for Steffy and probably always will.
RJ asks if Hope really thinks there is no hope for her and Liam. Hope says no, not that Steffy has left Finn.
B&B Spoilers – Ridge Forrester Checks Out John Finnegan's Theory
The Bold And The Beautiful spoilers reveal that Ridge wants to know what Liam's intentions are. Ridge is just trying to protect his family.
Liam brings up how Finn has invited Sheila back into their lives. Liam didn't have an issue until now. Ridge says Steffy is alone now and asks if Liam wants Steffy back.
Liam doesn't know how to answer that. Liam tells Ridge that he told Steffy he loves her.
Liam says he was just letting Steffy know he is around. Liam doesn't have a poker face within it comes to Steffy.
Steffy is a remarkable woman. Liam says he doesn't know how he ever let Steffy go. Ridge says he can tell Liam that story.
Finn says Steffy made him who he is. Steffy taught Liam to embrace the adventure. It was like they could see the life they wanted in each other.
Liam says it was intoxicating to be so desperately in love that nothing else mattered. Liam says he learned what it was like to hurt the one you love most.
Liam says it really hurt. The worse part was walking away and not trusting in the life they had built. He had this woman in his heart and she loved him and he walked away.
Liam doesn't know how the story ends but he knows he will never make that mistake again. Ridge tells Liam ok and leaves. Liam thinks about his time with Steffy over the years.
The Bold And The Beautiful Spoilers – John Finnegan Begs For Another Chance
Finn tries to convince Steffy that Liam is the real issue. Finn tells Steffy that Liam told him he wants her back. Finn begs Steffy not to let Liam come between them.
Finn cannot cut ties with Sheila. Finn says she is his birth mother. Sheila says Steffy is disgusting. Steffy claims she had no choice but to leave him.
Sheila is a threat to their family so she had to leave. Steffy says the children are her first priority.
Finn says it kills him that Steffy thinks he is a threat. Finn knows that he has let Steffy down and will use the the rest of his life to make that up to her.

Steffy didn't want to leave but everything that has happened was terrifying. Finn says he was wrong to ask Steffy to cut Sheila some slack.
Finn is sorry for taking his eyes off Kelly. Steffy asks why Finn hugs Sheila outside the judge's chambers.
Finn cannot explain what happened in that moment but it will never happen again. Steffy is the love of Finn's life. Finn is sorry for making Steffy feel unsafe.
Finn needs another chance to prove to Steffy that he will always put her and the kids first. Finn says they were apart once before and he doesn't want that again. Finn wants Steffy to come home.
Be sure to catch up on everything happening with B&B right now. Come back here often for The Bold And The Beautiful spoilers, news, and updates.