B&B Recap And Spoilers Friday, July 21: Bill And Ridge Furious, Sheila Goes Free, Liam Spies On Finn
The Bold And The Beautiful spoilers for Friday, July 21 reveal that John "Finn" Finnegan (Tanner Novlan) talks to Steffy Forrester (Jacqueline MacInnes Wood) about Sheila Carter (Kimberlin Brown).
Finn claims to want Sheila to pay but continues to think about seeing her at the prison. Brooke Logan (Katherine Kelly Lang) and Eric Forrester (John McCook) have breakfast at Il Giardino. Deacon Sharpe (Sean Kanan) learns that the trial starts today.
The Bold And The Beautiful Spoilers: Brooke Logan Hopes Sheila Carter Is Gone
Brooke doesn't want to think about Sheila again. Eric thinks it is about time. Deacon understands that Brooke wants justice. Brooke says thousands of years in prison won't make up for what Sheila has done.
Brooke praises Deacon for saving Steffy and Finn. Brooke doesn't see how Sheila could shoot her own son. Deacon says Sheila didn't mean to shoot Finn. Brooke says Sheila shot Steffy in cold blood.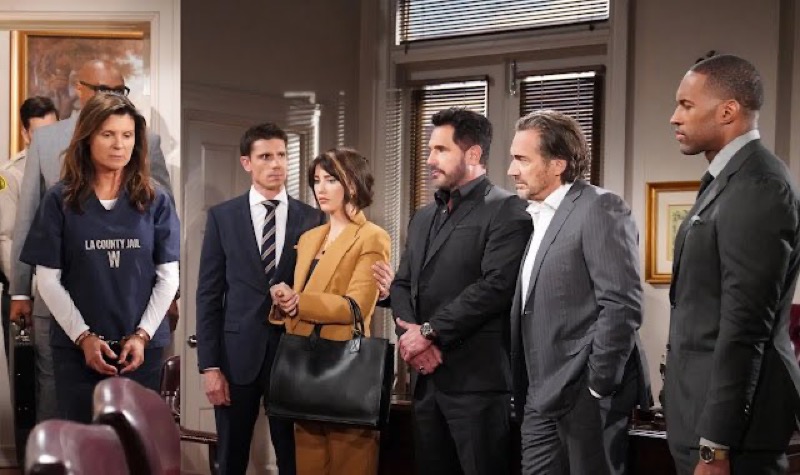 Deacon wonders if Sheila belongs in prison instead of somewhere where she can get some help. Eric agrees that Sheila belongs in prison. Eric assumes the trial has started.
Eric says this is a big day for Ridge Forrester (Thorsten Kaye). Brooke talks about how dangerous Sheila is. Brooke talks about how Bill Spencer (Don Diamont) had to alienate everyone to get Sheila's confession.
Brooke and Eric talk about everything that was done to catch Sheila. Eric is worried about Finn. The judge comes in and reads the charges against Sheila. Sheila confers with her lawyer. The judge has to address everyone present.
John Finnegan Warns Liam Spencer
The Bold And The Beautiful spoilers reveal that Liam Spencer (Scott Clifton) shows up at Sheila's trial. Finn is upset and wondering why Liam is there. Finn tells Liam that he is not going to tolerate anything inappropriate.
Liam asks if he can go in now. Finn says this is a family affair. Liam wants to make sure that none of them will be affected by Sheila again. Finn and Liam come inside.
Steffy asks what Liam is doing there. Sheila arrives to face, Finn, Steffy, Liam, Bill Spencer, and Ridge Forrester. Liam notices the looks between Sheila and Finn. The judge commends Bill and Ridge for the work they did to get Sheila there.
The judge says that after looking at the evidence he has no choice but to suppress it because of the connections Bill used to obtain it.
There is not enough evidence to convict Sheila and they have to dismiss the charges. Sheila also will not face charges for attacking Steffy or Finn although she almost killed them because the charges were dropped.
B&B Spoilers: Liam Spencer Spy John Finnegan Hugging Sheila Carter
Sheila is so excited to learn that she is being released even if she is in disbelief. The cuffs are taken off Sheila and she is free to go as soon as her paperwork is finished.
Sheila is in the hallway when Finn starts to leave. Sheila grabs Finn and pulls him into her arms. Finn hugs Sheila and Liam watches from around the corner.
Be sure to catch up on everything happening with B&B right now. Come back here often for The Bold And The Beautiful spoilers, news, and updates.