B&B Recap And Spoilers Friday, March 24: Thomas' Work Is Amazing, Ridge Teases Bill, Sheila Suspicious
The Bold And The Beautiful spoilers for Friday, March 24 reveal that Sheila shows Deacon (Sean Kanan) her engagement ring. Deacon thinks Bill loves her. Bill (Don Diamont) cannot stand another night with Sheila. (Kimberlin Brown) Hope and Thomas work on her line. Hope tells Thomas about Steffy Forrester's questions.
The Bold And The Beautiful Spoilers – Thomas Forrester Pleases Hope Spencer
Thomas tells Hope they are an incredible team and he won't do anything to screw that up again. Thomas and Hope (Annika Noelle) talk about changes that Zende Forrester made to the line. Thomas and Hope discuss the material they picked. Thomas and Hope make a good team, Hope is excited about the upcoming line. Hope is happy that Thomas is back.
B&B Spoilers – Ridge Forrester Offers Bill Spencer Advice
The Bold And The Beautiful spoilers indicate Ridge (ThorstenKaye) teases Bill about the proposal. Bill teases back about the man bun. Ridge tells Bill he is crazy but the only person would can pull this off. Ridge says they need to make sure their family is safe and that is the bottom line. Bill calls Ridge and tells him Sheila is going down today. Bill sets up his romantic scene complete with candles and rose petals. Sheila arrives and asks if this is all for her. Bill has been anxiously waiting for Sheila to come home. Bill wants to plan their future.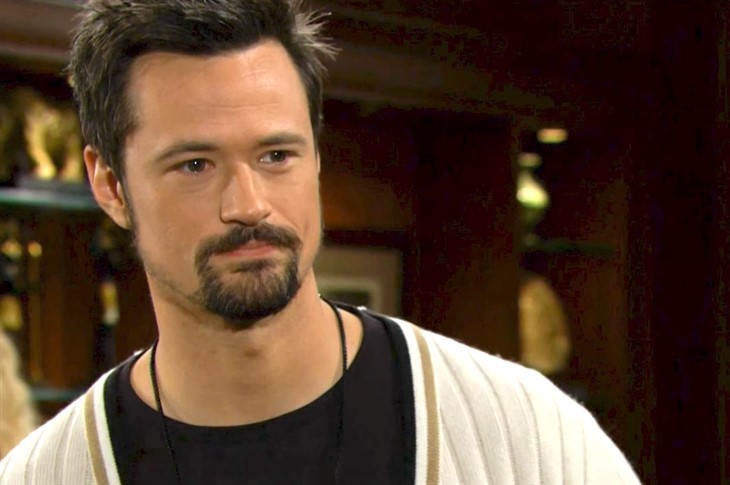 Sheila's head is spinning. Bill tells her to slow down. Sheila says it's marriage. Bill says who would have thought the two of them would be together? Bill talks about how others tried to change him. There has never been anything more important in his life. Bill wants to give Sheila the life she deserves. Bill wants Sheila to get go and say she will be his wife. Bill asks her to let him change her life. Sheila has fantasized about this her whole life. Sheila has been abandoned and left behind most of her life.
Now here bill is, everything she ever hoped for. Bill is a man that trusts Sheila and whom she can trust. Sheila wants to believe bill. Sheila says when some things seem too good to be true, they are. Sheila asks if Bill is playing her for a fool.
The Bold And The Beautiful Spoilers – Sheila Carter Feels Something Is Off
Deacon can't believe that Bill doesn't want a prenup. Sheila can't believe she will be free and filthy rich. Sheila wonders if this is really Bill. Sheila says this seems amazing. Bill proposing and no prenup. Bill has declared his love for her. Sheila cares for Deacon. Deacon wonders why Sheila questions this. Deacon says Sheila is intoxicating. Sheila says something is missing with Bill.
Bill can look at Sheila and she cannot tell what he is thinking. Deacon thinks wanting to marry Sheila without a prenup should tell her what he is thinking. Deacon doesn't like Bill. If Bill makes Sheila happy that is where she should be. Bill calls and Deacon tells her to answer the phone. Sheila had a lot to talk about. Sheila doesn't know what to say.
Bill tells her to get home so they can plan their life together. Sheila tells Deacon that bill wants her to come home and plan their future. Deacon hugs Sheila and tells her he will never forget her. Deacon tells Sheila to go make her future.
Be sure to catch up on everything happening with B&B right now. Come back here often for The Bold And The Beautiful spoilers, news, and updates.