The Bold And The Beautiful Spoilers Friday, March 24: Deacon's Guidance, Hope's Excitement
The Bold and the Beautiful spoilers for Friday, March 24 reveal that Deacon Sharpe (Sean Kanan) helps Sheila Carter (Kimberlin Brown) decide about Bill Spencer's (Don Diamont) proposal.
Meanwhile, Hope Logan Spencer (Annika Noelle) relishes in working with Thomas Forrester (Matthew Atkinson). Keep reading to find out what is coming up in the next episode of the CBS soap.
The Bold And The Beautiful Spoilers – Bill Spencer's Frustration
B&B spoilers for Friday, March 24 reveal that Bill is getting frustrated with this game he's playing with Sheila. Even though Bill and Ridge Forrester (Thorsten Kaye) are working with the FBI, Sheila still hasn't given any information on her crimes. Bill is getting tired of playing house with a deranged psychopath. So, he stepped it up by proposing to Sheila.
Bill is sure that if he proposes, Sheila will confess to multiple murders. However, Sheila stalled and didn't give Bill an answer. Instead, Sheila needed time to "process" the huge step.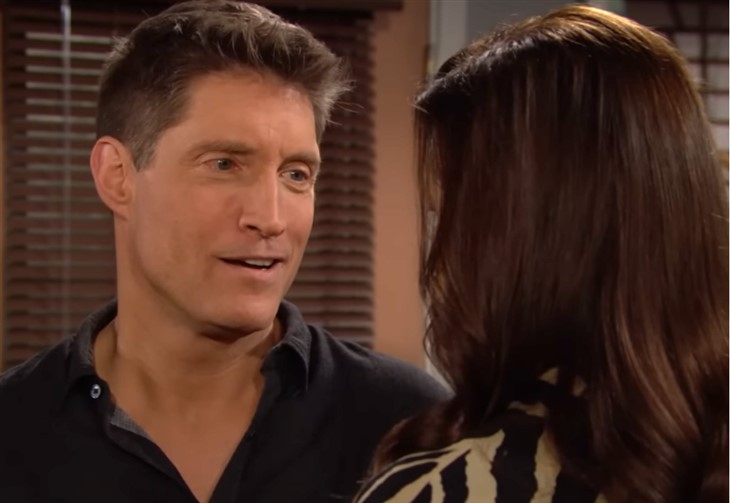 B&B Spoilers – Sheila Carter Conflicted
While Bill and Ridge bicker at each other, Sheila turns to Deacon for help. Sheila thinks that her freedom is tied to being with Bill. Now that Bill has proposed, he expects an answer. Sheila doesn't know what to do because the man she loves isn't Bill but Deacon. At the same time, Sheila doesn't want to risk her freedom by dumping Bill.
Sheila will tell Deacon about Bill's marriage proposal. At first, Deacon doesn't believe that it's sincere. However, Bill spared no expense to make it appear like a real proposal to Sheila. It seems to have worked… unless Sheila rejects the idea of marrying Bill.
The Bold And The Beautiful Spoilers – Deacon Sharpe's Advice
The Bold and the Beautiful spoilers for Friday, March 24 reveal that Sheila will get Deacon's help with a decision. Deacon and Sheila go over the pros and cons of marrying Bill. Of course, Sheila will probably agree to marry Bill, thinking it will keep her out of prison. Will Deacon try to stop Sheila from marrying Bill, though?
B&B Spoilers – Friday, March 24
There is also the question of how many others know about Bill and Ridge's FBI scheme. Does Brooke Logan (Katherine Kelly Lang) know? She seemed to hint it to Stephen Logan (Patrick Duffy). Plus, Taylor Hayes (Krista Allen) took a phone call from Ridge not too long ago and the topic was Sheila.
Fans can also expect Hope to revel in designing side-by-side with Thomas. Does Steffy Forrester Finnegan (Jacqueline MacInnes Wood) have a reason to worry about "Thrope?"

Which storyline are you looking forward to seeing the most on Friday, March 24? What are your predictions for Bill, Ridge, Deacon, Sheila, Taylor and Brooke? What does the future hold for Hope, Thomas, Steffy, John "Finn" Finnegan (Tanner Novlan) and the rest of the characters? Share your thoughts and remember to keep watching the CBS soap to find out what happens next.
Be sure to catch up on everything happening with B&B right now. Come back often for The Bold and the Beautiful spoilers, news, and updates.