B&B Recap And Spoilers Friday, May 19: Liam Confronts Thomas, Hope Confesses, Thomas Over Hope
The Bold And The Beautiful spoilers for Friday, May 19 reveal that Wyatt Spencer (Darin Brooks) wants to ask Hope Spencer (Annika Noelle) to do a preview of the new line for their channel.
Wyatt offers to take the lead in asking Hope to do the spot. Hope thinks about her conversation with Thomas Forrester (Matthew Atkinson) and their almost kiss. The FC model comments on Hope and Thomas' working relationship.
The Bold And The Beautiful Spoilers – Liam Spencer Is Still Worried
Wyatt knows that Liam Spencer (Scott Clifton) has a rough time talking to Thomas. Wyatt sets Liam's senses off again. Liam was thrilled when Hope came home. Liam says Hope was concerned because he was upset.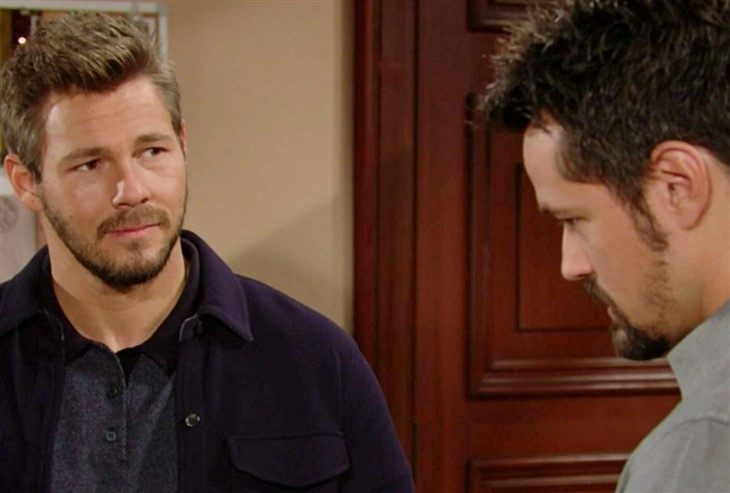 Wyatt tells Liam to enjoy his time with Hope but don't let Thomas take over his life. Liam thinks Hope is overcompensating. Liam hasn't got to look into Thomas' eye and he needs to get a feel for his opinion.
B&B Spoilers – Hope Spencer Admits Her Feelings
The Bold And The Beautiful spoilers indicate Hope and Thomas discuss how much their son is loving this new relationship. Brooke Logan (Katherine Kelly Lang) watches them from the hallway.
Brooke interrupts and discusses how well the line is going. Thomas tells Brooke how anxious Hope was when they almost got stranded.
Thomas leaves and Brooke wants to know what is on Hope's mind. Hope talks about relaunching the line and cannot wait.
Brooke tells Hope she should be proud of her family and her line. Brooke is glad that Hope doesn't want to be like her. Brooke thinks that Thomas is using this to come on to Hope and says it isn't right.
Brooke tells Hope that the fashion line is not worth losing her husband and family. Brooke sees the connection between Hope and Thomas. Brooke believes Thomas would have tried to have them share a room if they had gotten stranded in San Francisco.
Hope tells Brooke she trusts Thomas. Brooke says Hope has a lot to say about Thomas these days. Brooke says if Thomas is being inappropriate he needs to leave.
Hope says Thomas isn't the problem it is her feelings for Thomas that is. Brooke insists that nothing can ever happen between Hope and Thomas. Hope wants to be left alone.
Hope needs a moment before going home to Liam. Thomas ducks out of sight after overhearing the conversation as Brooke leaves. Thomas joins Hope. Thomas looks upset.
Hope tries to reassure Thomas that she didn't mean what she said. Hope believes Thomas has changed and she apologizes.
The Bold And The Beautiful Spoilers -Thomas Forrester Reassures Liam Spencer
Liam shows up to talk to Thomas. Thomas guesses Liam isn't there to congratulate him on the success of Hope for the Future. Liam has to give Thomas credit for saving Hope's line. Thomas says Zende Forrester (Delon De Metz) contributes a lot.
Liam asks Thomas to put himself in his shoes for a minute and asks how Thomas would feel. Thomas tells Liam they had to go on the San Francisco trip.
Liam doesn't ever believe he will be able to let his guard down and Thomas is fine with that. Thomas tells Liam he has nothing to worry about.
Be sure to catch up on everything happening with B&B right now. Come back here often for The Bold And The Beautiful spoilers, news, and updates.