B&B Recap And Spoilers Monday, July 17: Hope Chooses Love, Liam Confesses, Ridge Has Concerns
The Bold And The Beautiful spoilers for Monday, July 17 indicate that Brooke Logan (Katherine Kelly Lang) reminds Hope Spencer (Annika Noelle) of everything Thomas Forrester (Matthew Atkinson) has done to her family.
Brooke says this affair ends tonight. Wyatt Spencer (Darin Brooks) pushes Liam to talk to Hope and make this right. Ridge Forrester (Thorsten Kaye) visits Steffy Forrester (Jacqueline MacInnes Wood). Steffy tells Ridge how lucky she feels to have John "Finn" Finnegan (Tanner Novlan).
The Bold And The Beautiful Spoilers: Ridge Forrester Worries About Thomas Forrester
Ridge is worried about Thomas backsliding. Ridge believes Hope and Liam will get back on track. Ridge doesn't want Thomas to fall back into the black hole. Steffy believes Liam will forgive Hope.
Kelly Spencer (Sophia Paras Mckinlay) had a bad dream about her daddy. Steffy gets Kelly back to bed. Steffy and Ridge talk about him comforting her when she was little.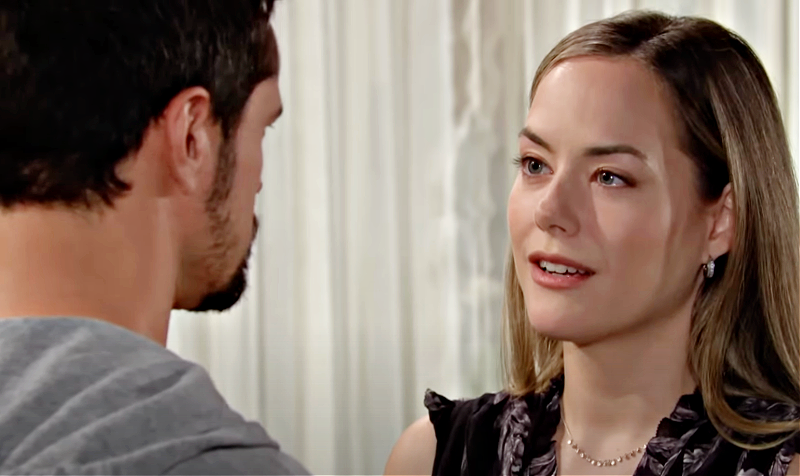 Steffy talks about how much Liam loves being there. Ridge asks if Hope turned to Thomas because of the connection between Steffy and Liam.
Ridge says if Hope thinks that Liam still has feelings for her it could undermine their relationship. Steffy is sure Liam and Hope will work this out.
Hope Spencer Hits Brooke Logan With The Truth
Brooke tells Hope to go to Liam and tell him how much she loves him. Hope says Liam doesn't want her anymore he wants a divorce.
Brooke says Thomas is taking advantage of this situation. Thomas denies that, he didn't want to break up Hope's marriage. Brooke says Thomas should send Hope home.
Hope doesn't want to be with a man who is in love with another woman. Hope thinks Brooke would understand this. Brooke tells Hope to save herself from the pain and heartache.
Hope says she is saving herself. Hope has forgiven Liam for some much. Hope tells Brooke that Liam has a backup plan. Hope says Liam is in love with Steffy.
Hope doesn't want to spend her life chasing after a man wondering if he is with someone else. Hope wants to be with a man who only wants her. Brooke believes Hope is making a mistake.
Hope says she had to help Brooke off the floor when Ridge left her. Hope refuses to be doing this. Hope says Liam is probably at Steffy's now. Hope hates that she hurt Liam but Hope doesn't see a future with Thomas.
Brooke knows what it is like to be enticed by the bad boy. Hope says Thomas wants just her, he doesn't have anyone else rattling around in his head. Brooke asks if Hope is giving up on her marriage.
Hope asks Brooke to keep quiet until she figures it out. Hope says this is her life and she will live with the consequences. Ahope wants to be with a man who isn't in love with another woman.
B&B Spoilers: Wyatt Spencer Is Stunned By Liam Spencer's Confession
Wyatt doesn't know why Hope did this and Liam needs to talk to Hope. Liam doesn't understand how Hope could have feelings for Thomas. Wyatt is asking Liam to defy reality.
Liam tells Wyatt that Steffy said the same thing. Wyatt asks if Liam talks to Steffy a lot. Wyatt asks how Steffy factors into this. Wyatt knows that Liam and Steffy are close. Wyatt wonders about Liam talking to Steffy about Hope.
Liam says Steffy knows how he feels. Wyatt asks if any old feelings came up. Wyatt asks if something is going on with Steffy that is impacting this situation. Liam says he kissed Steffy.
Wyatt yells at Liam when he admits to kissing Steffy. Liam knew it was wrong. Wyatt says Liam cannot go down this road. Liam says he never should have crossed the line like that. Liam says he promised Steffy he would never do that again.
Be sure to catch up on everything happening with B&B right now. Come back here often for The Bold And The Beautiful spoilers, news, and updates.