B&B Recap And Spoilers Monday, July 31: Sheila Saves Kelly, Ridge Proposes To Brooke, Liam Worries
The Bold And The Beautiful (B&B) spoilers. for Monday, July 21 indicates that Kelly Spencer (Sophia Paras McKinlay) disobeys John "Finn" Finnegan (Tanner Novlan) and goes to the edge of the water alone. Finn is on a call with the hospital about a patient when Kelly is swept up by a wave. Sheila Carter (Kimberlin Brown) hears Kelly scream and runs to her.
Liam Spencer (Scott Clifton) learns where Kelly is and isn't happy. Liam doesn't believe any of them are safe on Finn's watch. Ridge Forrester (Thorsten Kaye) works on his designs as Brooke Logan (Katherine Kelly Lang) watches. Ridge is grateful for Brooke's arms around him.
Ridge is grateful for Brooke's lips as well. Brooke says Rome was romantic for Hope Spencer (Annika Noelle) and Thomas Forrester (Matthew Atkinson) as well. Brooke asks if Ridge was happy that he saw his destiny through a keyhole. Ridge wants to see Sheila behind bars.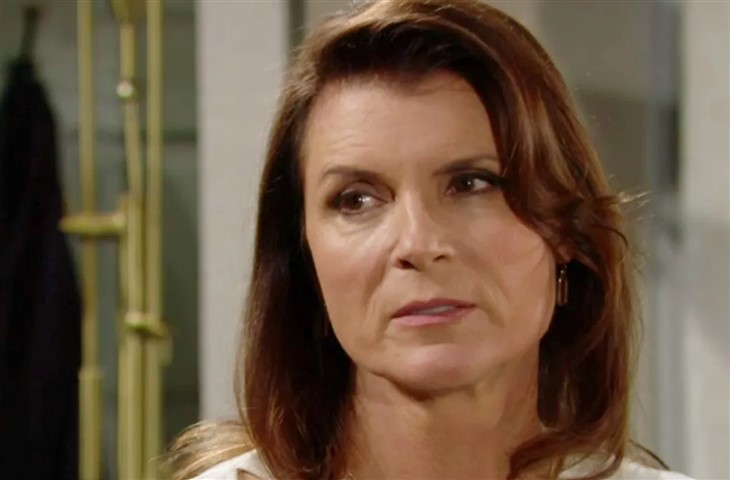 The Bold And The Beautiful Spoilers – Ridge Forrester Worries About Steffy Forrester
Carter Walton (Lawrence Saint-Victor) gives Ridge the press release that Katie Logan (Heather Tom) has typed up. Ridge asks Carter if Finn and Steffy can file charges again. Carter explains that Finn and Steffy already recanted their statement. Ridge is sure Sheila is coming after his family. Carter tells Ridge that the restraining orders are being processed.
Ridge says they have to do something else because Sheila will worm her way into Finn's life and the kids' lives as well. Ridge and Brooke keep snuggling at the office. Ridge gets frustrated when he thinks about Sheila. Ridge loves Brooke more now than ever.
Brooke loves Ridge too. Ridge wants to get married again. Brooke says yes and they kiss. Brooke knows that Ridge is worried about Sheila but they are stronger than ever together. Brooke reassures Ridge that Finn will protect Steffy and the kids.
B&B Spoilers – Liam Spencer Pushes Steffy Forrester To Act Now
The Bold And The Beautiful spoilers Liam is still concerned about Finn's interaction with Sheila. Liam vows to be extra vigilant where Steffy Forrester (Jacqueline MacInnes Wood) and Kelly are concerned. Liam wants to know how long Kelly and Finn will be. Liam talks about how much Kelly looks like his mother. Liam says it hurts when he isn't with Kelly.
Steffy says Liam is an incredible father and Kelly knows that. Liam talks about Sheila's pull on Finn. Liam wants Steffy to agree that they are on the same page with trusting Finn with Kelly. Liam understands why Steffy doesn't want to talk about Finn embracing Sheila. Steffy has to believe that Finn knows who Sheila is.

The Bold And The Beautiful Spoilers – Sheila Carter Saves Kelly Spencer
Sheila runs to Kelly and pulls her out of the water. Finn keeps asking Kelly if she is already and wraps her in towels. Sheila looks at Finn with concern. Kelly tells Finn that Sheila saved her. Finn thanks Sheila for helping Kelly. Finn calls her mom. Kelly asks if that is his mom and he says yes. Finn tells Sheila she saved Kelly's life.
Be sure to catch up on everything happening with B&B right now. Come back here often for The Bold And The Beautiful spoilers, news, and updates.
For more about what's happening on your favorite soaps and more ways to connect with us, join the conversation on our YouTube Page or our Facebook Page, check out our Twitter feed, look for an update on our Instagram, follow us on Threads , Always stay up-to-date with us on Google News, or drop us an e-mail HERE! See you there!