B&B Recap And Spoilers Monday, March 20: Bill Wants Out, Deacon's Concern, Sheila Worries
The Bold And The Beautiful spoilers for Monday, March 20 Bill Spencer (Don Diamont) arrives and Ridge Forrester (Thorsten Kaye) asks how Bill is holding up. Ridge says Bill has to hang in for a little longer.
Ridge tells Bill this was his idea and he needs to hold on a little longer. Bill hates that woman and wants her gone now. Bill and Ridge listen to Sheila Carter (Kimberlin Brown) talk to Deacon Sharpe (Sean Kanan). Ridge points out that Sheila is starting to lose it.
The Bold And The Beautiful Spoilers – Deacon Sharpe Offers Hope Spencer Support
Deacon has to hang up because Hope Spencer (Annika Noelle) arrives. Deacon asks how Hope is, and she says fine. Deacon is not happy with Thomas Forrester (Matthew Atkinson) working with her. Deacon says Liam is worried about this too. Hope asks Deacon about the phone call.
Hope says something is up with Deacon. Deacon tells Hope it is about work. Hope offers to help Deacon if he needs her. Hope doesn't like seeing Deacon stressed out. Deacon assures her that he has everything under control.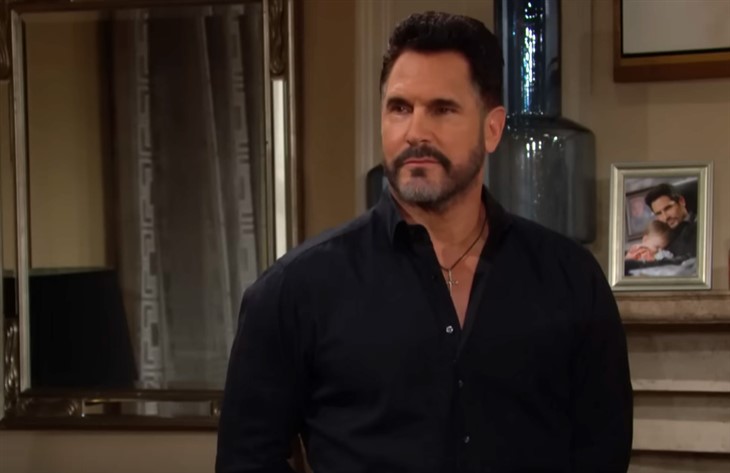 B&B Spoilers – Bill Spencer And Ridge Forrester Discuss Their Plan
The Bold And The Beautiful spoilers indicate Bill and Ridge want Sheila to slip up so they can put her away. Bill didn't fully realize the lengths he would have to go through for this. Ridge didn't believe Bill could pull this off. Bill has to keep going. Bill doesn't know what is keeping Sheila from confessing. They need to get Sheila for murder one.
Bill talks about saving John "Finn" Finnegan (Tanner Novlan) from Sheila. Bill never believed that bear attack story. The FBI has watched everything Sheila has been doing. Bill said Sheila was ready to confess and stopped. Ridge says this is taking a toll on Bill. Bill says everyone thinks he has lost his mind. Bill talks about his boys and hopes everyone understands and forgives him.
Ridge tells Bill he needs to try harder. Bill says Sheila is holding out on her. Ridge tells Bill he needs to step it up a bit. Bill tells Ridge he cannot imagine what it is like being intimate with Sheila. Ridge doesn't like Bill and never will but he respects him. Bill tells Ridge has done a lot. Ridge says Sheila will be gone for good in the end. Ridge says he thought Bill was nuts when he came up with this scheme.
Bill says they need iron-clad proof. Ridge says he can do it if anyone can. Bill says he didn't think this through. Bill says it is hard to keep up this façade. Ridge says they need to get a tape together and submit it for best actor. Bill talks about getting Sheila to follow him to the beach. Bill says Sheila bought his lonely heart act. Bill talked to Sheila for hours.
Bill used all of Sheila's vulnerabilities against her. Bill says it was risky. Bill cannot believe his family actually believes this. Bill tells Ridge he doesn't know how much more of this he can take. Ridge says they are so close, Bill can't quit now.
The Bold And The Beautiful Spoilers – Sheila Carter Worries That Bill Spencer Knows Her Secret
Sheila walks through the house pacing the floor time and again. Sheila looks at her photos with Bill as if looking for answers. Sheila thinks back to Bill's confession of love. Sheila continues to pace the floor and grabs a drink. Sheila is still trying to figure out if Bill is onto her or not. Will Sheila figure out what Bill is up to before he takes this to the next level?
Be sure to catch up on everything happening with B&B right now. Come back here often for The Bold And The Beautiful spoilers, news, and updates.