The Bold and the Beautiful Spoilers: How Does Sheila Respond To Bill's Engagement Offer?
The Bold and the Beautiful spoilers document that Bill Spencer (Don Diamont) is taking his plan to get Sheila Carter (Kimberlin Brown) to the next level. The next stage of the setup happens following the stunning reveal that Bill and Ridge Forrester (Thorsten Kaye) are working with the government. The goal is to force Sheila to incriminate herself.
The Bold and the Beautiful teasers indicate that Bill will pop the soapy question and ask Sheila to marry him. That follows Diamont and Kaye's characters hearing Brown's alter ego express her misgivings to Deacon Sharpe (Sean Kanan).
Flickering lights at the Spencer mansion was the first part of the reveal to the audience. Bill explained that event away as a power-based issue. But he realized that Sheila's senses were heightened.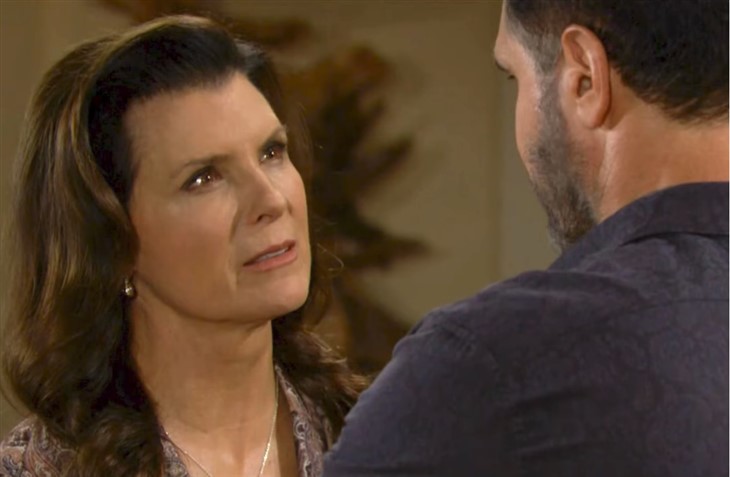 The Bold And The Beautiful Spoilers – Bill Spencer's True Feelings Revealed
Bill was seething when he spoke with Ridge at the government's surveillance facility. He is taking the greatest risk in this revealed plot and does not know how much longer he can stand being connected to this monster.
Ridge's comment to Bill, about being partners, added some comic relief to one of the greater episode-ending shockers in recent memory. Add to it that the reveal came during the annual two-day college basketball playoff delay, and fans' appetites are whetted all the more.
Sheila believes that Bill has fallen for her. However, she told Deacon that something must be off. That means Bill has to respond so that work done to date pays off.
B&B Spoilers – Who Has Ridge Forrester Told?
Ridge's role in this masterful ruse has yet to be detailed. Seemingly everyone except Bill believed Ridge was on an extended vacation.
Viewers recall that Ridge was said to be settling his mind after the two loves of his life told him to take a hike. Brooke Logan (Katherine Kelly Lang) and Taylor Hayes (Krista Allen) mutually decided not to allow Ridge to choose between them. Their resulting friendship is part of TPTB flipping long-standing rivalries.
It feels plausible that Ridge has confided someone besides Bill. Eric Forrester (John McCook) could be counted on to be discrete. Carter Walton (Lawrence Saint-Victor) is Ridge's best friend, Forrester Creations' chief legal counsel, and a Board member. So, he could be another person who knows what Kaye's character has been doing in recent months.
The Bold And The Beautiful Spoilers – Sheila Carter Must Learn The Truth
No payoff climax would have Sheila admit to a series of crimes. The recordings of her admissions would lead to an immediate arrest and likely conviction.
No drama will happen if Sheila is arrested at the mansion, held in prison and convicted. Fans are overly familiar with her escape history. So, that is well-worn territory as well.
But having Sheila become aware of Bill's game would be compelling. The engagement offer is an opportunity to push the plot toward that direction. It would be great soap if Sheila eventually learns the truth without Bill or the audience knowing on B&B.
This site is a leading source for everything linked to The Bold and the Beautiful. Check back regularly for B&B spoilers and news!